Why should you post your jobs on Facebook?
We live in a digitized world. Social media networks have become a crucial part of our lives. We use social media to connect with friends, share our everyday life and yes, even find jobs.
As a result, in just a few years, social media recruiting has turned from a trendy new HR buzzword to a must have recruiting strategy.
As social media has exploded in the past decade, candidates are using it more and more for job research.
According to LinkedIn's research:
nearly half of all professionals (49%) are following companies on social media with the intent to stay aware of their jobs.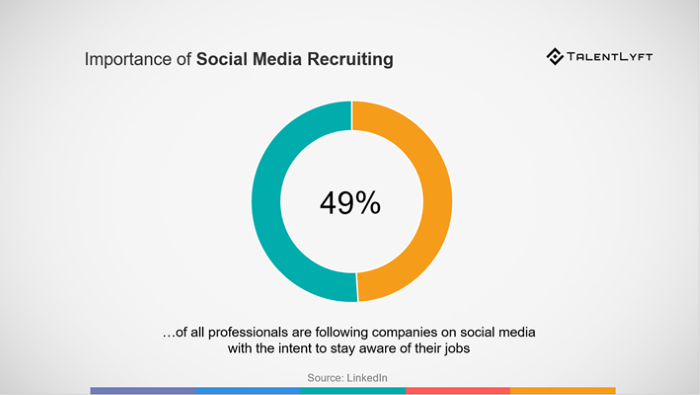 As CareerArc reports, job seekers rank social and professional networks as the most useful job search resource compared to job boards, job ads, employee referrals, recruiting agencies, and recruiting events.
This trend is especially evident among younger generations. According to Aberdeen Group:
73% of millennials found their last position through a social media site.
These days, if you want to find and hire the right job candidates, you simply have to post your jobs on social media, especially Facebook - the world's largest social media network in 2018.
The benefits of posting jobs on Facebook
Posting jobs on Facebook is one of the most effective ways to reach both active and passive candidates.
Here are the 5 main benefits of posting jobs on Facebook, comparing with old recruiting methods such as posting jobs on job boards:
Benefit #1: Low cost
Posting jobs on job boards can get quite expensive. It is also usually one fixed price.
On the other hand, to post a job on Facebook is much more affordable.
Besides, when you post a job on Facebook, you can determine how much money you want to invest in promoting your job post.
The more money you invest, the larger will be your job post reach. In other words, you can control how many people will see your job post by setting limits on your budget.
Benefit #2: Greater reach
On job boards there are mostly active job seekers.
On the other hand, on Facebook you can also reach passive job seekers. These are the people who already have a job. That's why they don't visit job boards. However, you will find them on Facebook. If your Facebook job ad catches their attention, they might reconsider joining your company.
According to LinkedIn's global research, a massive 90% of global professionals are interested in hearing about new job opportunities. Your best job candidates are passive job seekers!
Benefit #3: Full control of your job post
Job boards usually have certain templates and your job posts must fit into them.
On the other hand, on Facebook you can create a distinctive job post that will stand out and differentiate your company from your competitors!
Benefit #4: No competition
On job boards, there are many other job posts from other companies. It means that you have to compete with all other companies to attract the attention of your perfect candidate.
On the other hand, posting jobs on Facebook will ensure that your perfect candidates see only your company's job post at the time.
Benefit #5: Advanced targeting options
Job portals don't offer precise targeting options. Consequently, your job posts will be shown to the whole range of candidates. Most of them will be far away from your candidate persona - your ideal job candidate.
On the other hand, Facebook offers advanced targeting options. You can choose who will see your Facebook job ads. You can select people from the certain geographical area, based on their education level and type, current and past employers, interests, etc.
Consequently, you won't waste your money on candidates that are not a good fit for your company and your needs!
3 ways to post a job on Facebook
There are 3 main ways to post a job on Facebook:
1. Your current employees
Ask your current employees to share your job posts via their personal Facebook profiles. That way your job posts will be seen by a much larger audience - for free!
According to Social Media Today:
Content shared by employees receives 8X more engagement than content shared by brand channels.

Messages shared by employees went 561% further than the same message shared on a brand owned channel.
Besides, your potential candidates place much greater trust in your employees.
According to Edelman Trust Barometer:
Employee voice is 3x more credible than the CEO's when it comes to talking about working condition in that company.
Your employees are your best employer brand ambassadors!
2. Facebook groups
You can also post your job posts in different Facebook groups. There are many Facebook groups dedicated to different professional interest and areas. In these groups, you can reach a large number of professionals.
Posting your job in Facebook groups is a unique way to reach your target population fast, easy and completely for free!
Here are a few examples of Facebook groups that can help you recruit the right people for your company:
3. Paid Facebook ads
If you're willing to invest some money in promoting your Facebook job posts, you can do that using the paid Facebook ads.
Using paid Facebook ads to promote your job posts on Facebook has 2 main advantages:
Greater reach (more people will see your job posts)

Advanced targeting (your job posts will be shown only to your perfect job candidates).
Post a job on Facebook in 5 easy steps
Here is how to post a job on Facebook using paid Facebook ads in 5 easy steps:
Step #1: Create your company's Facebook page
If your company already has a Facebook page, you can post your job posts there.
However, you probably use your existing company's Facebook page to promote your products and services and communicate with your users, customers and potential business partners.
This is why the best practice is to create a separate Facebook page dedicated to your company's recruiting efforts.
For example, check out Facebook careers or L'Oreal Talent.
By creating a special Facebook recruiting page for your company, you can promote your Employer Brand on social media much more effectively and efficiently.
Here is how it looks like: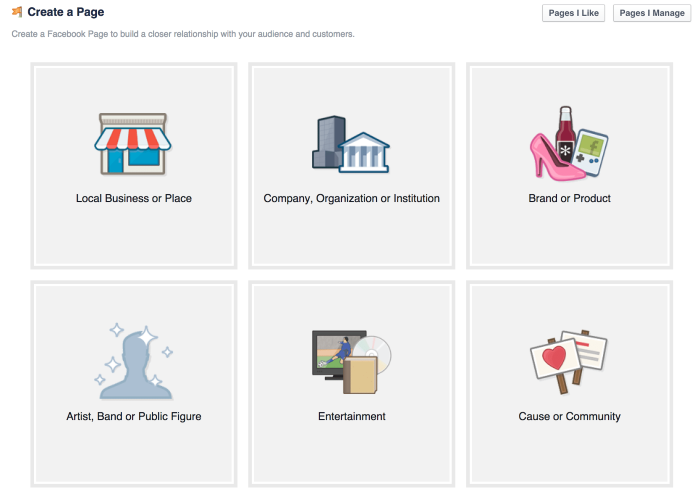 Step #2: Create your Facebook job post
Create your Facebook job post!
Write short, but engaging copy. Add an eye captivating image - it will help your job post stand out. Finally, don't forget to add a call to action and include a link to your career site where your potential candidates can find detailed job descriptions and application form.
Step #3: Boost your Facebook job post
In the right corner of your Facebook job post you will see a "Boost post" button. Click on that button to open Facebook job promoting options.
Step #4: Define your target audience
Define the characteristics of your ideal job candidates. Choose their location, age, interest, beahviors, etc.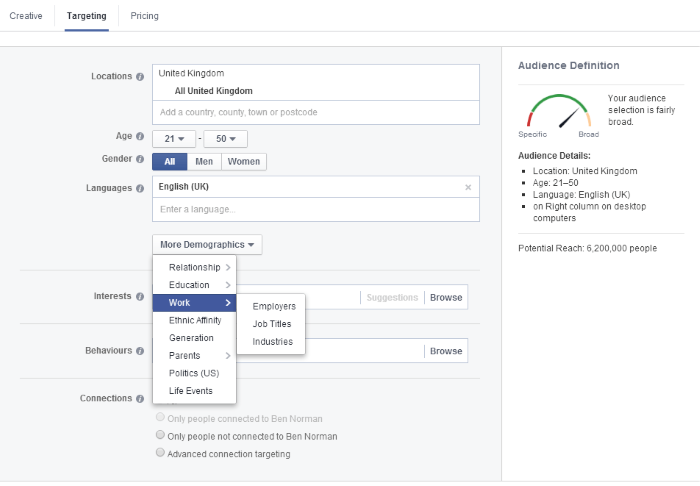 Step#5: Define your budget
Choose how much money you are willing to spend on the promotion of your Facebook job post.
When you set your budget limit, Facebook will show the estimated number of people who will see your Facebook job post:
And...that's it - you're all done!
The result of posting jobs on Facebook
Through Facebook's detailed analytics, you will be able to get a precise information about the performance of your Facebook job post.
You will see exactly how many people saw your job post and how many clicked on it. You will also gain insights into the characteristics of your audience, such as their geographical location, age, sex, etc.

Posting jobs on Facebook: Advanced options
Advanced options and even more precise targeting possibilities are available via Facebook's ads Manager.
Ads Manager is a Facebook tool where you can create and manage your Facebook ads.
You can:
Create and run your ads

Target your ads to the people you care about

Set your budget

See how your ads are performing

See your billing summary, payment history and payment method info.
How can you post jobs on Facebook with TalentLyft?
If you want to make your open job positions even more visible - add Facebook Job Tab to your Facebook profile.

With TalentLyft, you can easily create and set up your Facebook Job Tab in just a few clicks!
Once you add it to your Facebook profile, your open job positions will be automatically updated.
Here is the example of a Facebook Job Tab we created for one of our users, Rimac Automobili company: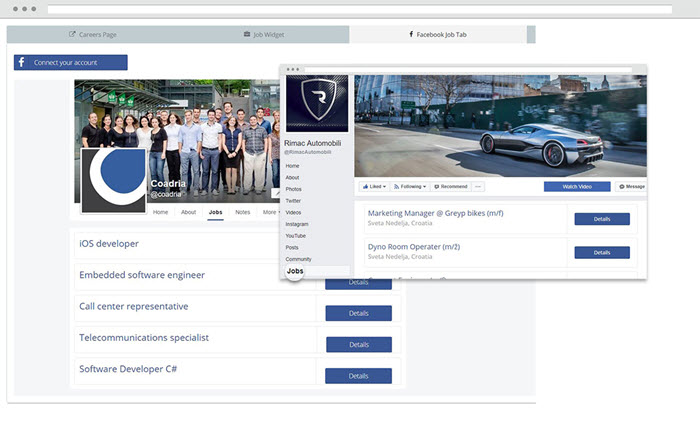 If you are interested to find out more, please don't hesitate to schedule a free, personalized demo with our experts.