Eurosender - Logistics
Recently we spoke to Ana, an HR Specialist from Eurosender and she told us all about how TalentLyft is helping her and her colleagues create a unique Career Site that became a foundation for their recruitment marketing activities. We invite you to keep reading the article and find out all aspects that recruiters and hiring managers from Eurosender found useful while using the tool.
For anyone who is not familiar with Eurosender and their business - it is a popular digital platform that combines advanced automation capabilities, empowering companies to create their own digital logistics department and increase their performance. Thanks to Eurosender, companies can simply order and track efficient combinations of transport, to meet their demand for ad hoc shipments, as well as for dedicated shipping for different logistics flows.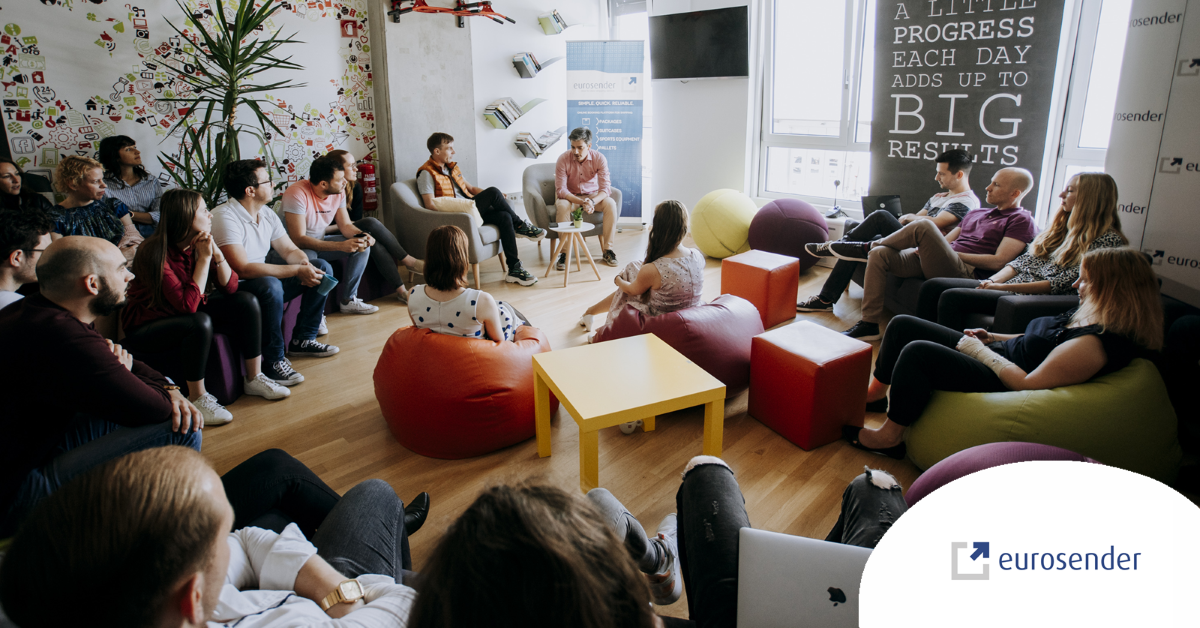 Eurosender is a young and constantly growing team, frequently in search of new talent. When being introduced to TalentLyft, Ana says they saw the opportunity to expand their employer brand and create a Career Site that would represent everything they stand for.
Recruitment issues
Before implementing TalentLyft, Ana says that the company was lacking sufficient support for their recruitment processes from a software standpoint. Some of the issues that the company was facing were:
No interaction between their ATS and the Career Site
Inability to create a good-looking Career Site
Not having all candidate information in one database
"We were looking for a better connection between our ATS and the Careers Website and the user interface. We wanted a user-friendly solution which would be easy and intuitive to navigate."
Very soon after implementing TalentLyft, they started leveraging a variety of different features of the software.
Career site
The most important difference that Ana is mentioning as a result of starting to use TalentLyft is their new Career Site. As she says, Eurosender is positioning itself as a young company and it was important for them to showcase that on their Career Site. Having an old-fashioned Career Site without many pictures, blog posts or details about the culture lacked a personal element to it. Soon after implementing a new and more interactive Career Site, they noticed a change:
"Setting up an easily customizable Careers Site was a huge step forward to us and became the foundation of our recruitment marketing activities."
The ability to channel all the applications from various job boards to TalentLyft turned out to be a very useful addition to their marketing activities. Additionally, Ana pointed out that implementing the Career Site wasn't a struggle:
"It took me about a day or so to get the logic of it. It's really easy to make it, brand it and maintain it."
As they are getting into the grips with all the capabilities of the Career Site their main goal for it is to become their main 'landing destination' for all their social media and other employer branding efforts.
Internal mobility
At Eurosender, they are encouraging their employees to apply for different positions within the company since they see it as a good opportunity for both the company and their employees. However, the struggle they used to face was focused on not having a tool to store and process internal applications. Finding out that they can have one database with all information about all candidates in one place (regardless of the fact that they have been hired or not) gave them more confidence to promote such mobility opportunities.
"Before, it was really messy and complicated to keep our archives up to date. We actually faced some issues because we couldn't save the CVs of the colleagues that were here prior to TalentLyft."
Tracking candidates
One of the features of the tool that was the most helpful in saving time and reducing confusion was the ability to track candidates.
"The tool is very clear in regards to how you can track applicants - you can easily know how they're moving from one stage to another."
This not only helped recruiters become more efficient in hiring and having a clear overview of the hiring processes but it also simplified the process for their hiring managers:
"In my opinion maybe the easiest or the most time saving element of the tool is how you can move the candidates through each stage without any uploading or downloading actions or too many clicks. Basically with one click you can get them where you want and any evaluations can easily be added by everyone." , " We always have more people included in this process and HR managers are familiar with this kind of tool but the hiring managers usually aren't so, it's nice if it's easy for them to use the tool as well."


Talent Pools
It is more recently that the HR department at Eurosender started exploring Talent Pools. This is how Ana explained it to us:
"The thing is that we have the general applications always opened and in the last month, let's say, we started actively placing all the applications into the Talent Pools. So at least from this General applications bucket, we now have approximately five or six different Talent Pools that we use for distributing right messages to the right candidates. This way, we can really live up to our promise and contact everyone to thank them for applying and even contact them again if a new opportunity arises, which we didn't do so far. It's nice to be able to finally do so because people really appreciate some response. I think it's really good for everyone. "
"Prior to TalentLyft our database wasn't as searchable and efficient as is it now and in if we would want to contact specific group of candidates we would have to check each CV and all previous interactions separately. So, now when we put them into the pools and use a search function, the process becomes easier."
"So far we've only used this in a few projects, but I'm sure that at some point we will start actively hiring candidates from Talent Pools."
All in all…
"Thanks to TalentLyft we improved our candidate experience for all applicants!"