Are you using Instagram to recruit employees?
Social media opens opportunities for promotion, social listening, and responding to customer feedback.
Traditionally, these benefits are used as reasoning for companies using social media for online reputation management.
Creative companies should realize the benefits of social media beyond a promotion tool.
Instagram, in particular, is a great tool for discovering and vetting candidates for creative roles.
➡️ To learn about other creative recruitment strategies, download our free eBook: Most Productive Recruitment Marketing Strategies!
Use this article to learn about the benefits of using social media for recruiting.
You'll also learn how to best use Instagram as a tool for your creative recruitment efforts.
Why is Instagram the best place to recruit creative professionals?
LinkedIn' research found that half of all professionals are following companies on social media with the intent to stay aware of their jobs.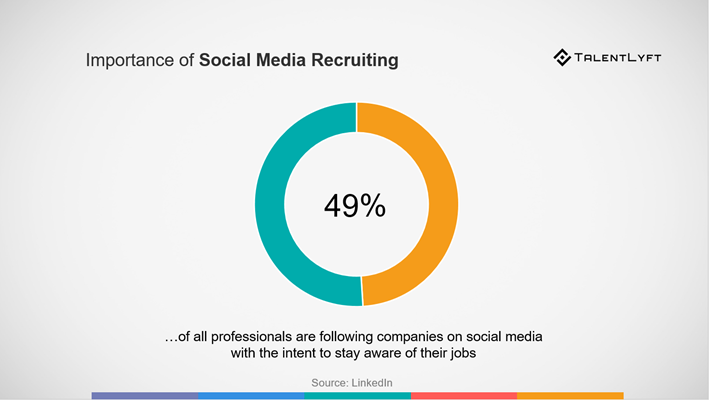 A recent survey from Clutch shows that 14% of recent hires found their positions through social media, a figure that is bound to increase as candidates look beyond their established networks for professional opportunities.
Regularly engaging with your Instagram followers can open the doors for recruiting engagements.
From quick access to an unofficial portfolio to understanding how a candidate reacts to people and situations, Instagram can be a treasure trove of information about potential hires.
Key benefits of using Instagram for recruiting
Creative and design companies can use Instagram as an opportunity to engage with candidates and get to know their creative sensibilities.
Three main benefits of using Instagram for recruiting are:
Engaged fans can be easily transitioned into candidates
Quick access to candidate portfolios
Barometer on a candidate's judgment and personality
3 ways to recruit on Instagram
Here are the top 3 ways you can use Instagram in recruiting: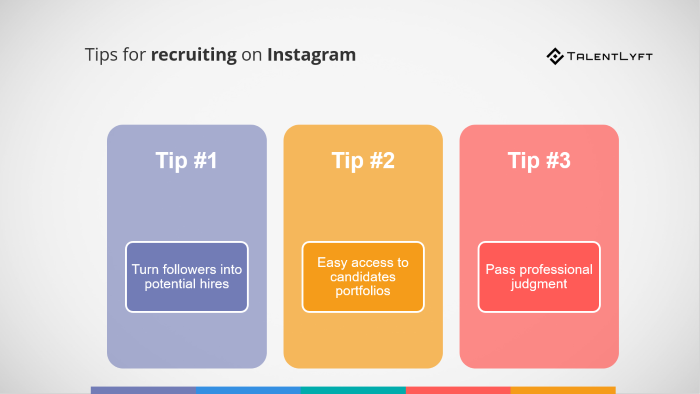 1. Turn followers into potential hires
Companies that use Instagram have dedicated fans who regularly engage with their content.
Thus, Instagram is a perfect platform to seek out candidates who are familiar with your brand and interested in your line of work.
According to Instagram, 80% of users follow at least one business and 60% learn about a product or service through a company's posts.
A candidate that follows your businesses has already expressed interest in your company. Capitalize on that opportunity by entering into recruiting conversations or engagements.
Recruiting engagement through Instagram is straightforward: Respond to people's engagement. Follow your followers. Respond to criticism with understanding and empathy.
Simple gestures help build relationships, which improves your brand image and makes your business a more appealing place to work for candidates.
HelloWorld, an online marketing company, has used Instagram in the past to extend job offers to candidates.
Using Instagram to engage candidates helps candidates feel wanted. The above post, for example, demonstrates the company's excitement to welcome new members to its company, a message that extends beyond the intended recipient.
2. Easy access to candidates portfolios
Images and videos are two of the most popular types of content on social media. As such, Instagram can act as a de facto portfolio for candidates who are applying for creative or digital positions.
You can also gain insight into a candidates digital marketing skills through following a candidate's Instagram account. In many instances, your company can determine how well a candidate can perform in a brand marketing role based on how well they market themselves through their account.
The same way you would use a reviews or portfolio site to browse through digital marketing companies, you can use Instagram as a means to review and compare candidates' abilities to create content that could be used for your business.
Following a candidate on Instagram also allows you to gather intel to address during an interview. For example, you can use their content to inform the sort of questions you ask about digital marketing strategy and visual marketing.
Creative candidates, in turn, also appreciate seeing the creative work that your company produces. Instagram is the best platform to demonstrate your company's creative engagements and projects, which helps appeal to candidates' desire to work for a company that produces high-quality work.
Finally, some candidates' profiles give insights about a candidate's growth, goals, and aspirations. People use Instagram to post life updates and make personal announcements: this can be useful for understanding a candidate's background and the sorts of professional and life experiences they have that would make them a good fit for your company.
3. Pass professional judgment
Judgment is a necessary part of the recruitment process. Your company has to make a decision about a person based on a select few interactions.
Social media is a great tool for screening candidates before your first official contact. It provides more context about a candidate that you may not be able to collect through formal recruitment engagements.
A recent study by the Society For Human Resource Management (SHRM) found that 84% of employers recruit via social media, and 43% of employers screen job candidates through social networks and search engines.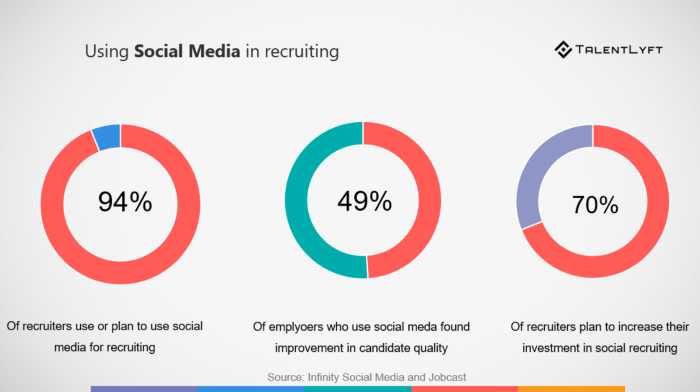 Researching candidates online often illustrates a person's "true" self. The perceived anonymity of social media have led countless people to expressing thoughts and opinions they otherwise wouldn't share (obviously, this isn't always a good thing).
No matter how skilled a potential employee may be, personality conflicts can derail progress and create a toxic work environment.
Someone who is abusive or abrasive on social media may bring those attitudes into the workplace, which is a recipe for uncomfortable interactions with colleagues and management.
If a candidate does not display the judgment necessary to interact nicely or respectfully with others on social media, they probably won't display sound judgment in the workplace.
Beyond personality traits, the way a candidate curates his or her Instagram account can also be informative about their work ethic. Blurry images, bad grammar, or incoherent posts may be a red flag.
On the other hand, candidates also can demonstrate positive attributes that employers desire on their social accounts.
Kindness, engagement, and inclusion demonstrate strength in collaboration and empathy. Good writing and graphics skills demonstrate creativity and attention to detail.
Instagram recruiting limitations
Of course, recruiting on Instagram has certain limitations you should keep in mind when building your social media recruitment strategy.
Your official recruitment engagements and interactions should be what you use to make the ultimate decision about whether to hire someone.
However, Instagram provides a very useful, additional context to those engagements that help your company make the most well-informed hires they can.
About the author
Grayson Kemper is a Senior Content Developer and Marketer for Clutch, a leading ratings and reviews site for B2B services and solutions.
He is also senior content writer for The Manifest, a B2B news and how-to website.