The best interview technique: Let's start by defining it!
Finding and hiring the best candidate for the job isn't easy.
Once you find qualified candidates, you need to apply the right interviewing method to select the best one among them.
But that's not all! If you want your top candidate to accept your job offer, you also need to provide a great candidate experience.
➡️ Download The Ultimate Candidate Interview & Employee Onboarding Checklist - it will help you provide a seamless candidate experience!
According to LinkedIn's recent survey, an overwhelming 83% of talent say a negative interview experience can change their mind about a role or company they once liked! 😮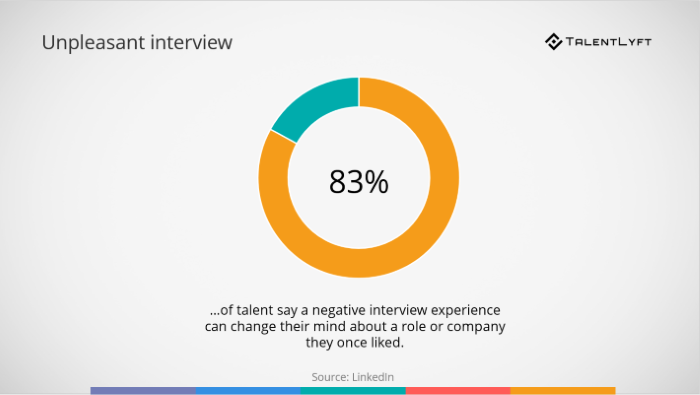 Thus, the best interview technique is the one that achieves two main goals:
1. It helps employers choose the best person for their open job position.
2. It ensures a positive interviewing experience for candidates.
Not that we cleared that up, let continue in our quest for the best interview technique! 🥇
There are many different interview techniques
There are a number of different approaches to interviewing job candidates. As a result, there is an array of many different types of job interviews and numerous different interviewing techniques.
An interview can be structured, semi-structured or unstructured. It can be behavioral, situational, skills or experience focused. It can also be formal or casual. You can conduct it over the phone, via video or in person. You can interview one candidate at the time or hold a group interview, etc.
There are so many ways to conduct a job interview. The question is - what is the best way to conduct a job interview? Which interviewing technique is the most effective? Keep reading this blog post to find out! 🙂
The most popular interview techniques
Let's start by investigating which interviewing techniques are the most popular among HR professionals.
This is exactly what LinkedIn has asked more 9,000 talent leaders and hiring managers across the globe in their latest research.
Here are the results:
The most frequently used interview technique are structured interviews. Structured interviews are being used by 74% of HR professionals around the world.

Behavioral interviews come second in a tight competition. This interview technique is being used by 73% of of HR professionals around the world.

More than 88% of HR professionals have rated these two interview techniques (structured and behavioral interview technique) as effective.
These results are quite expected. However, this research contained a very surprising and unexpected finding. There is another highly effective, yet underutilized interview technique!
Best interview technique you never use
So what is this mysterious highly effective, yet underutilized interview technique? 🤔
Brace yourself, the answer is coming… :drumrollplease: 🥁
➡️ Work assignments - sometimes also called job simulations.
According to LinkedIn's report, only 32% of respondents use this technique, even though 84% say it is effective.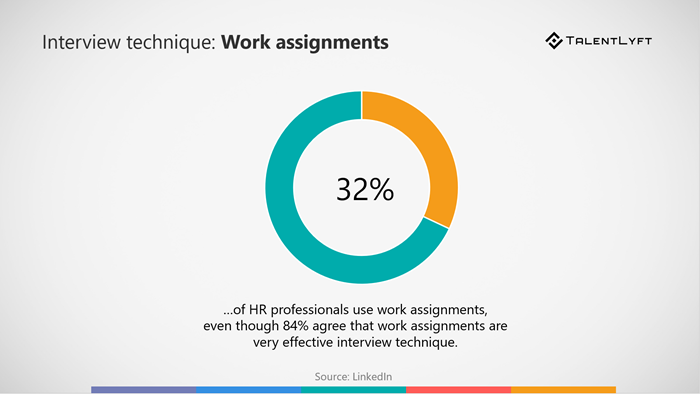 It certainly seems that these work assignments are worth considering! Thus, let's dig a little deeper to find out what this interview technique is all about.
What are work assignments?
Work assignments are exactly what their name says they are - a type of assignment a candidate would work on if hired. Basically, work assignments are small projects or tasks which a candidate has to complete during the interview.
Let me give you a few concrete examples for the purpose of clarification. Let's say you are looking to hire a sales professional. If you want to use the work assignment technique, what it would look like? You could create a mock sales call or meeting.
You can create many different types of work assignments. Depending on the role you are interviewing for, you could ask a candidate to write a short copy, outline a presentation, solve a certain problem, brainstorm a few ideas, solve a certain problem, etc.
Work assignments benefits
Work assignments allow employers to directly observe candidates' skills and performance, which significantly improves the interview's prediction of candidates' on job success.
Work assignments are beneficial for candidates as well. Completing real-life job tasks helps candidates to know the kind of work they would be doing if they accept the job. In other words, they can try out a job and see if it fits them.
The secret formula for a successful interview
According to research and many HR professional's everyday experiences, there is a simple formula for the most effective interview technique.
Let's break it down into 3 simple steps: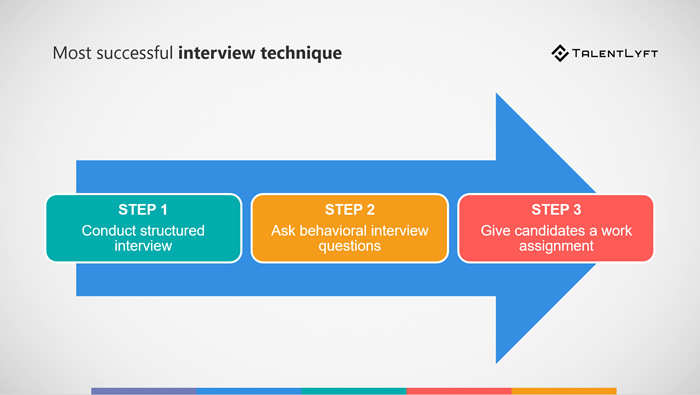 Step #1: Conduct a structured interview
First of all, you should always conduct a structured job interview. Why? Because structured job interviews are more efficient than semi-structured or structured interviews when it comes to predicting job performance.
Meta-analysis research shows that structured interviews are up to twice as effective at predicting job performance than unstructured ones!
Thus, if you want your job interview to be effective and accurately predict job performance, it should be properly structured, methodical and consistent.
In other words, you should prepare interview questions before the interview and ask each of your candidates the same questions in the same order.
Step #2: Ask behavioral interview questions
The second step in conducting the most effective job interview is to ask the right interview questions. The questions is...what type of interview questions should you ask your job candidates? There are so many different types of job interview questions!
Actually, almost all HR professionals have their own list of what they swear are the best interview questions to ask candidates. Most of these questions are typically related to candidates' credentials, technical skills, experience and self-evaluations and are used in so-called conventional interviews.
However, research shows that behavioral interviews are more valid and accurate for making hiring decisions. Behavioral interviews are based on the evaluation of candidates' past behaviors.
In other words, in a behavioral interview, candidates are being asked a specific type of interview questions - so-called behavioral interview questions.
Step #3: Give your candidates a work assignment
Finally, a third step of the best interview technique is to give your candidates a so-called work assignment. In this part of the interview, you should give your candidates a task similar to the one they'd actually be doing in their new job if you hire them.
Most employers skip this step. That is a big mistake because work assignments are the most predictive aspect of the whole recruiting process. Work assignment gives you the chance to directly observe how the candidate does the job, instead of relying solely on their words.
Some candidates are very good at interviewing, but that doesn't necessarily mean that they will perform better at the job as well.
OK, so your candidates can talk the talk. But can they walk the walk? The only way to find out is by giving them a work assignment!
Start applying this interview technique today - it's well worth it!
Okay, so I know what you're thinking - preparing for the structured interview, carefully choosing the right behavioral interview questions, coming up with the appropriate work assignment...it is a lot of work.
You're absolutely right. This interview technique is more complicated than conducting a traditional interview. However, if you want to be the best, you need to invest some additional time and effort. This is the only way to the top.
Besides, it's less time consuming than hiring the wrong candidate and then having to start your whole recruiting process all over again. Not to mention the incredibly high cost of making a bad hire! According to Career Builder, the average cost of a single bad hire is nearly $15,000.
The choice is yours.