Interviewing techniques for employers
There are many different types of job interviews and numerous different interviewing techniques. If you ask HR professionals and experienced recruiters, each of them will have its own favorite interview technique and interviewer hacks, tips and tricks.
In this blog post, you will learn about the top 5 interview techniques used by experienced HR professionals. You've probably already familiar with some of them, but a few will definitely surprise you! 🙂
Learning about the latest trends in conducting job interviews and innovative, creative interview techniques is a must for every employer who wants to find the best person for the job.
➡️ Download The Ultimate Candidate Interview & Employee Onboarding Checklist!
5 effective interview techniques for employers
Here are the top 5 interview techniques HR professionals use to choose the right candidate for the job: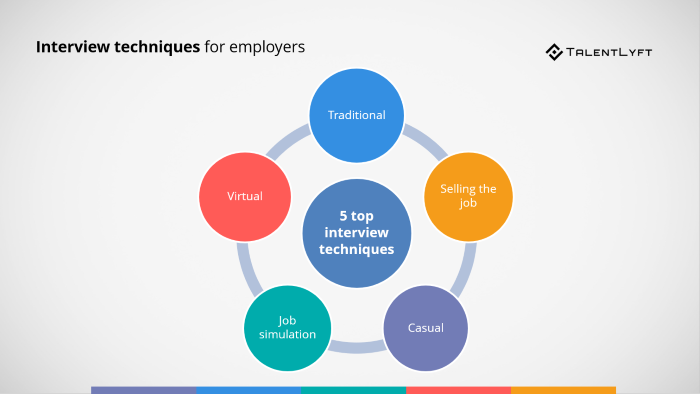 1. Traditional interview
You've probably most familiar with the traditional job interview technique - you know, the one where you ask your candidates about their skills and experiences in order to find out if they're a good fit for your open job position.
Traditional interviews come in many shapes and sizes. For example, a traditional interview can be structured, unstructured or semi-structured. It can also be a one-on-one interview, a panel interview or even a group interview. A traditional interview can be conducted in the form of a phone screening interview, video interview or a face to face interview.
The problem with traditional interview technique is that is has been proven ineffective in certain areas. According to LinkedIn's report, which surveyed over 9,000 recruiters and hiring managers, the traditional interviewing technique has many weaknesses.
For example, traditional interview technique is especially bad at assessing soft skills and understanding candidate weaknesses. It also leaves room for recruitment bias, takes a lot of time, and relies on asking the right interview questions to get a clear picture of a candidate.
This is why many HR professionals have started experimenting with innovative, out-of-the-box interview techniques.
2. Job simulation
Job simulation (sometimes also called job audition) is the most popular innovative interview technique. Job simulations are becoming increasingly popular among employers because they help companies predict if a candidate if a good fit for a role more accurately.
In a job simulation, a candidate is asked to complete a task they would actually do if they were hired. In other words, when you use this interview technique, you don't ask candidates to tell you about their about their skills. Instead, you directly observe candidates' skills and performance.
Besides for employer, job simulations are also beneficial for candidates, too. By taking part in a job simulation, candidates get a real-life job preview, which helps them assess how much they really like to job. Simply put, they can try out a job and see if it fits!
Besides giving your candidates a certain task, job simulations can take on a more elaborated form. For example, you can organize a competition (such as hackathon), or invite your candidate to join your employees in a brainstorming session and help them solve a real-life problem your company is currently facing.
3. Casual interview
Another popular interview technique is a so-called casual interview. With a casual interview technique, a candidate is being interviewed outside the office, usually over a meal. Inviting candidates for breakfast, lunch or dinner offers a unique opportunity to observe candidates in a more casual setting.
This interview technique is especially beneficial if you want to assess your candidates' communication and social skills. It will also allow you to spend more time with your candidates and get to know them better. As a result, you can gain a deeper insight into your candidate's personality.
Casual interviews can do wonders for your candidate experience. Since most employers still stick with a quick in and out of the office interview, inviting your candidates over for a meal will make them feel special. They will also appreciate you taking the time to get to know them on a more personal note.
Some employers even go that far to incorporate an additional test into this interview technique. The most famous example is the case of an interview technique devised by Walt Bettinger, chief executive of Charles Schwab Corporation. He gets to the restaurant early and asks the waiter to mess up his candidate's order - and then he observes how the candidate will react.
4. Virtual interview
In the last few years, we heard a lot about VR (virtual reality) and AR (augmented reality). These technologies have been announced as the next big thing that will completely change the way we live - and interview. Using VR and AR, employers can now engage with candidates in a virtual job interview.
Virtual interview technique was first used at college career fairs to attract the attention of a younger generation of innovative, tech-savvy talent.
Check out how The Commonwealth Bank of Australia (CBA), the biggest bank in Australia did it:
However, the use of this interview technique has quickly evolved way beyond career fairs. For example, General Mills created a virtual tour of its headquarters and Deutsche Bahn uses virtual reality to show candidates what it's like to work at their company, especially at hard to fill roles such as train conductor and electrician.
Another good example is the use of virtual reality by Jaguar Land Rover. This company created a virtual reality app that test candidates skills. Check it out:
Obviously, virtual interview technique offers many different possibilities, form testing your candidates' skills, letting them experience first hand what's it like to work at a certain role to giving them an office tour and showing off your company culture. All that in just one interview - amazing, right?
5. "Selling the job" interview
This interview technique was, until recently, reserved for recruiting C-level professionals. However, times have changed. The war for talent is raging, especially for scarce tech talent. This is why more and more employers are adopting a so-called "selling the job" interview technique.
This interviewing technique is used when you have a high level, top class candidate. In other words, when you know you have top talent on your hands, your main goal isn't testing this candidate's skills. Instead, you want to woo this type of candidates and sell them a job at your company.
This interview technique encompasses many different tactics, such as highlighting promotional opportunities, underscoring your company's benefits, providing interesting details about your company's history, mission and vision and your future plans, emphasizing your amazing company culture, etc.
In other words, when using this interview technique, you should present your employer brand and highlight your employee value proposition. Unfortunately, many employers make a mistake of talking on and on about their company and how great it is.
Instead, you should focus on candidates and their wants and needs and demonstrate how working at your company can make their dreams come true.
Choosing the right interview technique
Choosing the right interview techniques is crucial if you want to find the best candidate for your open job position who will fit in with your company culture.
These days, when the employment rate is lower than ever and the war for talent is raging on, choosing the right interview techniques has become even more important.
The interview technique you choose can also help you improve the candidate experience and stand out from other employers.
According to LinkedIn, an overwhelming 83% of talent say a negative interview experience can change their mind about a role or company they once liked! 😮
No matter which interview technique you decide to use, make sure that your interview is pleasant and interesting for your candidates! 🙂
Additional resources on conducting great interviews
If you're looking for more tips and tricks to help you spruce up your interviewing skills and techniques, check out: