The importance of creating an engaging onboarding experience
Employee onboarding is crucial for introducing new employees to their new roles, new colleagues, and the working environment that they are going to be in.
➡️ Download The Ultimate Candidate Interview & Employee Onboarding Checklist!
Employee onboarding is a process that can be turned into an opportunity to create lasting good impression on new employees, help promote employee retention, and foster goodwill towards the company.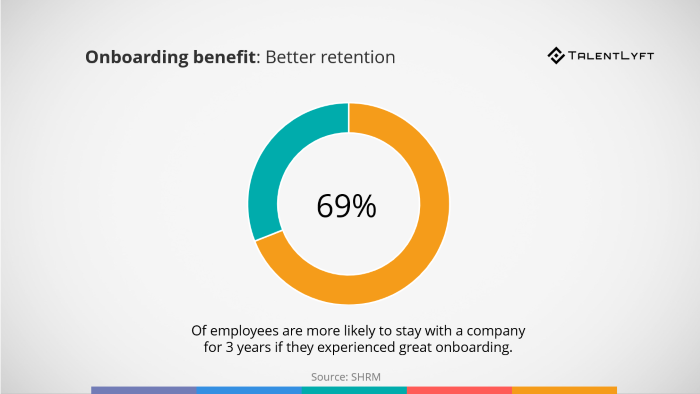 HR practitioners and the people team can help make this happen by turning an otherwise routine process into a positive and engaging experience for new employees.
An engaging onboarding experience can help you hire and retain top talent.
➡️ Download free ebook: Transform Your Hiring Process from Reactive to Proactive!
In this blog post, you'll learn how successfully onboard new employees and come up with an engaging and effective employee onboarding experience.
Employee onboarding infographic
Here are some tips on how to come up with an engaging and effective employee onboarding - in the form of a handy infographic!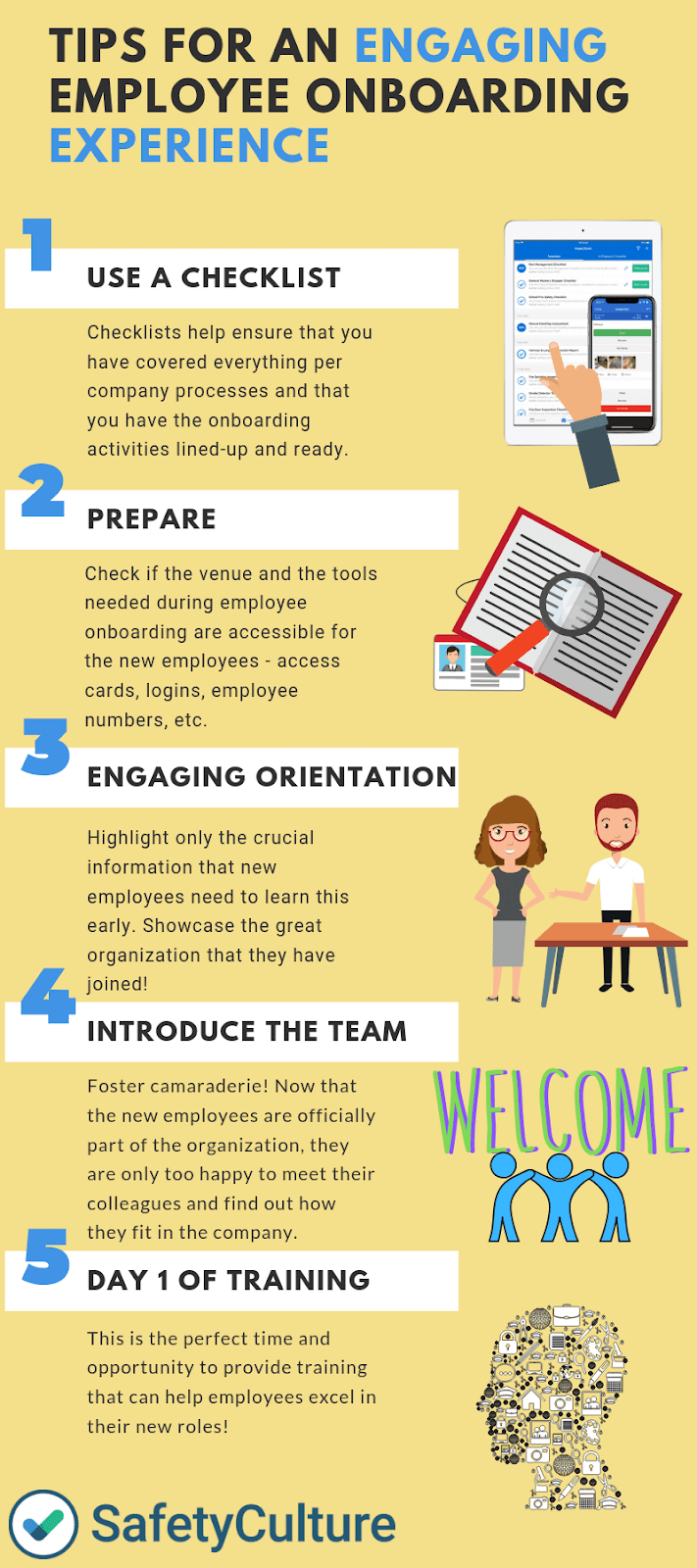 How to create an engaging employee onboarding experience?
Here is how you can create an engaging employee onboarding experience in 5 easy to follow steps:
Step #1: Use a checklist
You have done the onboarding process before and you know that you need all the helpful tools you can use to effectively fulfill your duties and make your job a little easier.
An onboarding checklist can help you ensure that you have covered everything per company processes and that you have the onboarding activities lined-up and ready for the new employees.
How to do this?
✔ Learn from previous onboarding programs. Try to remember what worked well in the past and what can be improved for your onboarding process.
✔ Your checklist should be easily accessible to you. You may need to double check something and having a handy checklist can save you a lot of time.
Step #2: Prepare
As with any successful endeavor, preparation is key. See if you have everything and everyone you need (with the help of your checklist) for a successful employee onboarding.
How to do this?
✔ Check if you have all the requirements you need from the new employees in order to include them on the employee onboarding.
✔ Check if the venue and the tools needed during employee onboarding are accessible for the new employees - access cards, logins, employee numbers, etc.
✔ Inform the new employees what they need to bring with them for the orientation day as well as the venue, call time, and duration of the orientation.
✔ Prepare any materials that you will provide the new employees during the orientation. Make sure that you are well stocked.
Step #3: Conduct an orientation program
Now that you have prepared everything, it is time to conduct an engaging orientation program.
This is the perfect time to set expectations for new employees and showcase the great organization that they have joined!
How to do this?
✔ Begin by providing the agenda so the new employees' expectations are set on what to see and learn during the orientation.
✔ Make it engaging! Listening to one person read slide after slide of company policy, vision-mission, employee handbook, etc, can get boring real fast. Your preparation will come in handy as you highlight only the crucial information that new employees need to learn this early in their employment.
✔ Safety first! Show where the emergency exits are and discuss basic safety procedures in case of emergency.
✔ Recap what have been discussed for the day and encourage the new employees to share their thoughts on their experience.
✔ As you already know, every batch of new hires come with new dynamics and challenges. Prepare to have an open mind and expect new things you may learn from new employees during orientation.
Step #4: Introduce the team
Foster camaraderie! Now that the new employees are officially part of the organization, they are only too happy to get to know their new colleagues and find out how they fit in the company.
More than adapting to the current company culture, new employees have the potential to add something new and dynamic to the organization - a culture add!
How to do this?
✔ While giving the new employees a tour of the premises to showcase their new working environment, use this chance to introduce them to staff - department heads can share what they do in the organization and staff whom the new employees will be directly working with can introduce themselves and welcome the new employees.
✔ Inform tenured employees ahead of time if there will be introductions for employee onboarding so they can better plan their to-do for the day and set aside time to spend with their new colleagues.
✔ Gather feedback! Ask the new employees what they think about their colleagues and what are their expectations now that they officially met them.
Step #5: Provide training
Employees who just recently joined an organization come in eager and more than happy to prove themselves.
This is the perfect time and opportunity to provide training that can help employees excel in their new roles!
How to do this?
✔ Provide learning materials that include easily accessible job aids that can help trigger memory and something that employees can check anytime - even if they have been on the job for a while - should they need reference or reminder on how to correctly perform tasks.
✔ Invite tenured employees to provide examples of real-world scenarios and share best practices during training. Help build teamwork through interaction.
✔ Encourage open communication and teach-back during training to confirm if the employees are still receptive to learning.
✔ Conduct training evaluation to check what the new employees learned during training and to confirm if their knowledge aligns with training expectations.
✔ Set employees for success. New employees have the potential to add value to the organization and this potential can be realized through proper training.
BONUS tip: Conduct surveys
Surveys tell new employees that they matter and that their opinion is important. The information gathered from surveys can help with the continuous improvement of the onboarding process.
Check out the Sample of Employee onboarding survey questions and use it to gather feedback on your onboarding process from your new employees.
Creative employee onboarding ideas
If you're looking for additional ideas for creating great, engaging employee onboarding experiences, check out these real-life employee onboarding examples from experts!
About the author
Erick Francisco is a content writer for SafetyCulture. SafetyCulture is a software company with its flagship product iAuditor - the world's #1 inspection platform.