Never hire a candidate without a background check!
When it comes to hiring a new employee, recruiting and interviewing them is only one part of the process.
➡️ Download free eBook: The Ultimate Guide for Conducting Job Interviews!
Employers sometimes overlook the importance of investigating a candidate's background. Auditing a candidate's professional, educational (and sometimes criminal) history and citizenship can require a significant amount of time and resources.
Fortunately, there are some procedures and documents that make it easier for a company to get all the information they need – one such being the employment verification letter.
What is employee verification letter (EVL)?
Often, an employer will request an employment verification letter, or EVL, to get a clear idea of someone's current or past job status.
An EVL can also be used when requesting a lease, a loan, or even when someone immigrates to a new country. It is not a work permit, rather, a formal communication proving someone's employment.
The importance of an employee verification letter in a hiring process
Hiring a new employee comes with risk. There is risk on the side of the employer who has no way to be 100% sure if a candidate is a good fit or even a reliable person. There is also uncertainty for the candidate who must decide if the company will live up to its promises. For the employer, documents such as an employee verification letter helps to mitigate some of this risk.
All employers must take a small leap of faith every time they hire someone new – even if the credentials are perfect.
For this reason, checking out a candidate's background, including obtaining an EVL, must be done to make that leap a little bit easier.
Instances where an employee verification letter is required
Here are the 6 most important instances when an employe verification letter is required: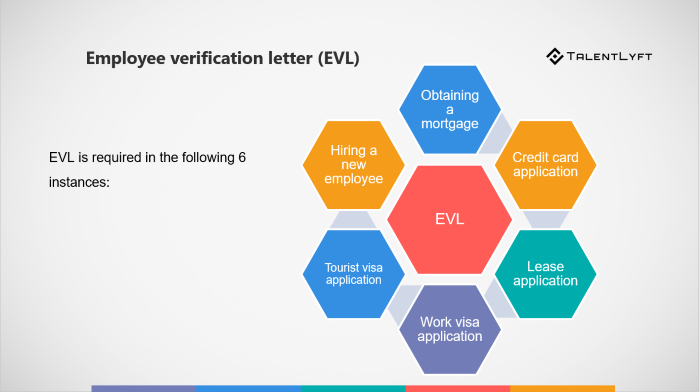 1. Obtaining a mortgage
Mortgage companies, banks, and financial institutions commonly require an EVL at the start of the mortgage process. For obvious reasons, they need to ensure that the lendee has the stable income required to make monthly mortgage payments. Sometimes a paystub will suffice, but more often than not, a bank will request an EVL from the applicant or even from their employer directly.
2. Credit card application
Like a mortgage, banks sometimes need to make 100% sure that a credit card applicant is a suitable candidate for a loan. Sometimes a bank will ask for an EVL when a customer requests a lower interest rate or deferred payments on a loan.
3. Lease application
Landlords need to make sure that a potential lessee will be able to pay rent payments on time. An EVL can provide assurance to a landlord that they are renting to a stable and responsible tenant.
4. Work visa application
Depending on the country and exact visa application, an EVL is generally required. This allows the country to officially check the applicant's job status and gives them the employer's contact information.
5. Tourist visa application
In some cases, even obtaining a tourist visa necessitates an EVL. It allows the country in question to be assured that the applicant has solid ties to their country of residence – ensuring the traveler has a strong reason to go back home and not reside in another country.
6. Hiring a new employee
Though an employer will interview a candidate in person, review their CV, and even conduct other background checks, the EVL is the official document needed to check the candidate's current job status.
What needs to be included in an employee verification letter
An employee verification letter EVL must include the following elements:
The candidate's current (or former) employer's company logo or official letterhead.

Current date

The employee's full name

The employee's job title and responsibilities in brief

The employee's employment dates – when they began working at the company, and when they left (if applicable).

The employee's salary – include bonus if applicable

The address of the employer

The employer's contact information and signature.
What not to include in an employee verification letter
An EVL must only disclose the information above. A detailed description of an employee's performance, be it a glowing review or not, is not part of an EVL.
The types of information that must not be shared includes age, race, gender identity, sexual orientation, and health status. Any personal information such as the employee's family situation is also off limits.
Example of an employee verification letter
Here is an example of employee verification letter. Feel free to use this employee verification letter template and adjust it your your needs!
XXX Company
123 Sloane Street
Toronto, Ontario
September 1, 2019
To Whom it May Concern,
Please accept this employee verification letter as proof of Jane Smith's full-time employment at XXX Company.
Employee Name: Jane Smith
Employment Dates: January 1, 2006 to August 20, 2018
Job title: Events Coordinator - Organizing and executing all trade shows, company events, investor events, and liaising with our PR firm.
Salary: $80,000
If you have any questions or require more information, please contact us at 555-555-0101 or john.gold@xxxcompany.com
Sincerely,
John Gold
Human Resources Manager
XXX Company
How to obtain an employee verification letter
Typically, an employee (or former employee) must request an EVL from their current or former employer. To avoid delays, it's best they request it as soon as possible.
An employee can also write their own letter and have it signed by their employer. Moreover, they may send their employer a simple template (above) to make it easier for the employer to fill out. It's important to note that only essential information is required.
Generally, an employer will provide an EVL without an issue, but they aren't necessarily obligated to. Sometimes, a recruitment firm can communicate with a candidate's former company to obtain the EVL.
When a company is looking to assess candidates, consolidating all of their information can sometimes becoming time-consuming, and important information can get lost in the process. Working with a recruitment firm and/or a recruitment software can streamline the process so that an employer can get everything they need in a timely manner without too much back-and-forth.
Groom & Associates works with job seekers to help compile all of their information including an official EVL. We also conduct background checks including criminal and educational checks, and depending on the role, credit checks. These activities often fall under the responsibilities of most companies' human resource departments, but due to dwinlinding in-house resources, more and more employers look to staffing agencies to do some of this legwork for them.
About the author
This article was written by Miriam Groom, VP of Sales and Marketing at Groom and Associates, a Canadian recruitment agency specialized in headhunting and HR consulting.