Looking for great quotes to motivate your team?
There are many different ways to motivate your team. If you're looking for great motivational quotes you can use to motivate teamwork and foster collaboration, you've come to the right place. We've gathered some of our favorite quotes on the power of teamwork.
Below you'll find a list of the top 10 teamwork quotes and sayings, including the names of each speaker or author. We also created a colorful image for each quote.
Feel free to take these images and use them any way you see fit. Whether you want to enhance a team email or make your next team presentation more impactful, we've got a quote for you.
The quotes we gathered highlight the importance of teamwork and the power of collaboration in the workplace. Use them to encourage your employees to work together and give their best at their job.
By using these quotes you can send an important message to your employees and highlight the importance of collaboration at your company.
Use them to inspire your employees and educate them on what is needed for successful teamwork.
➡️ If you're looking for more great tips on managing employees, check out our Short Leaderships Tips for Managers!
Team motivational quote #1
"Talent wins games, but teamwork and intelligence win championships."
- Michael Jordan, American former professional basketball player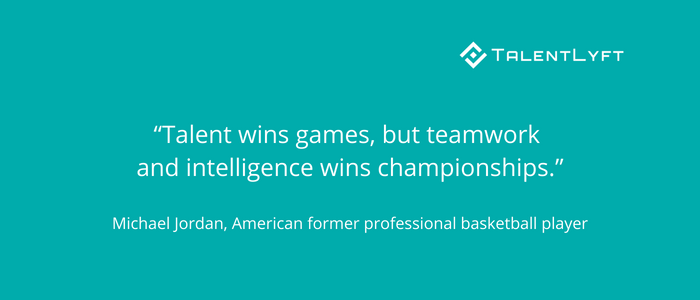 Team motivational quote #2
"Great things in business are never done by one person; they're done by a team of people."
- Steve Jobs, Chairman, CEO and co-founder of Apple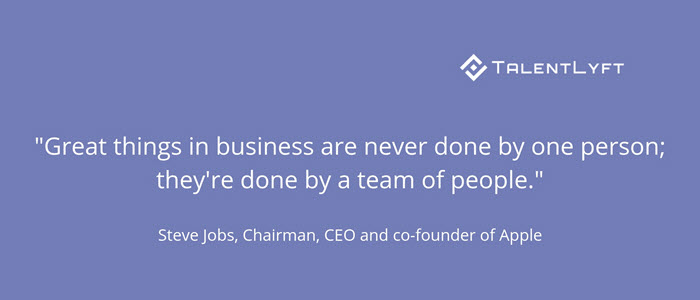 Team motivational quote #3
"A team is not a group of people who work together. A team is a group of people who trust each other."
- Simon Sinek, British-American author, motivational speaker and organisational consultant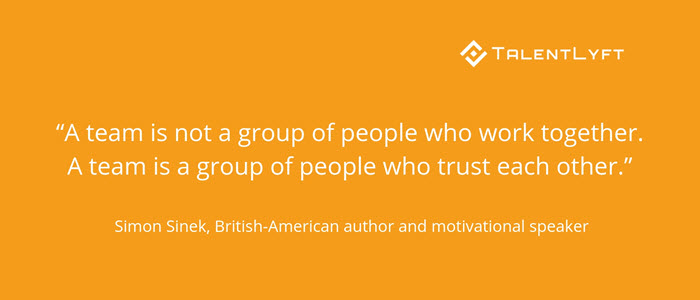 Team motivational quote #4
"If everyone is moving forward together, then success takes care of itself."
- Henry Ford, Founder of Ford Motor Company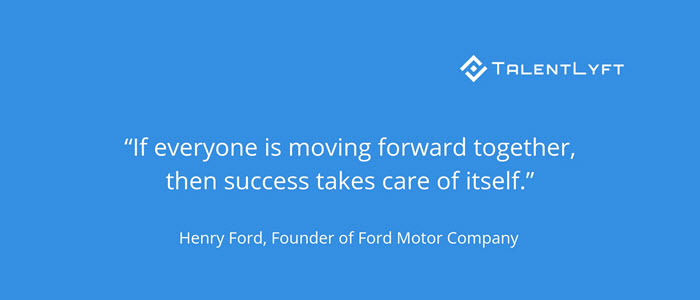 Team motivational quote #5
"When you need to innovate, you need collaboration."
- Marissa Mayer, Former president and chief executive officer of Yahoo!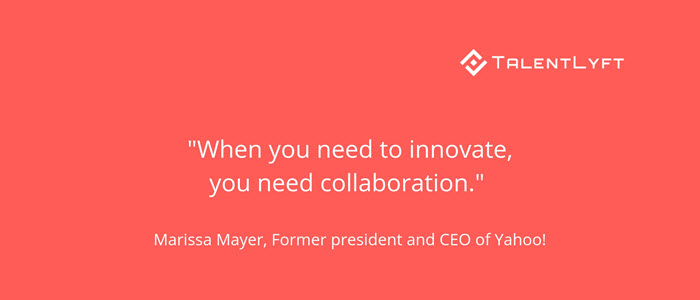 Team motivational quote #6
"No problem is insurmountable. With a little courage, teamwork and determination a person can overcome anything."
- Louisa May Alcott, American novelist and poet
Team motivational quote #7
"No matter how brilliant your mind or strategy, if you're playing a solo game, you'll always lose out to a team."
- Reid Hoffman, Co-founder and former executive chairman of LinkedIn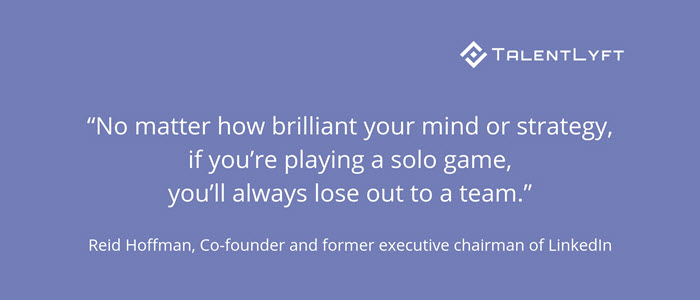 Team motivational quote #8
"If you take out the team in teamwork, it's just work. Now who wants that?"
- Matthew Woodring Stover, American fantasy and science fiction author, writer of Star Wars novels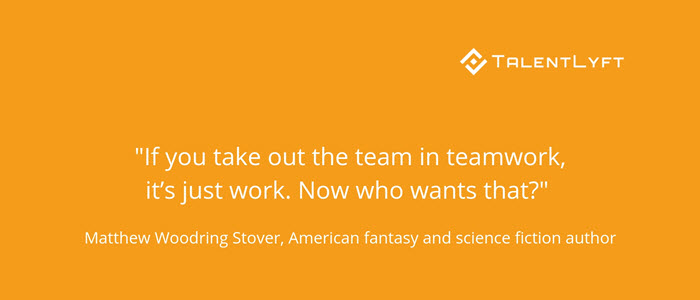 Team motivational quote #9
"Individually, we are one drop. Together, we are an ocean."
- Ryunosuke Satoro, Japanese poet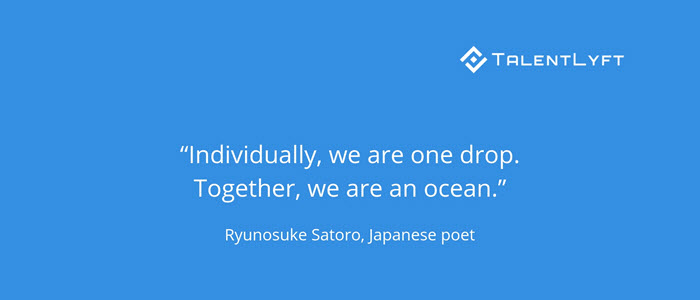 Team motivational quote #10
"Never doubt that a small group of thoughtful, committed people can change the world. Indeed. It is the only thing that ever has."
- Margaret Mead, American cultural anthropologist
Looking for more motivational quotes?
If you're looking for more inspiring and motivational workplace related quotes, check out:
Don't forget to share these inspirational quotes on social media! Spread the love and inspiration. 🙂
Additional resources to help you keep your team motivated
Looking for additional ideas to keep the members of your team motivated and inspired to give their best?
Check out these resources: