Diversity and inclusion: A business priority
Diversity and inclusion in the workplace are no longer just a praiseworthy HR initiative.
According to Josh Bersin from Deloitte, implementing diversity and inclusion strategies should be one of the top business priorities for all companies.
Why is that?
Bersin by Deloitte research has found that companies that embrace diversity and inclusion in all aspects of their business statistically outperform their peers.
The results of this study are amazing! Josh Bersin explains:
Among more than 128 different practices we studied, the talent practices which predict the highest performing companies are all focused on building an inclusive workplace.
The first step in building an inclusive workplace is proactively hiring diverse employees.
➡️ Download free eBook: Transform Your Hiring Process from Reactive to Proactive!
Before we jump into the best practices for building an inclusive workplace, we first need to clearly define workplace diversity and inclusion.
What is workplace diversity?
Workplace diversity is a term used for a workplace composed of employees with varying characteristics.
These characteristics differentiate groups and people from one another.
Types of diversity
Most commonly mentioned types of diversity are:
Race

Gender

Ethnicity

Age

Physical abilities

Language

Culture

Religion

Veteran status

Sexual orientation

Education

Nationality.
What is workplace inclusion?
As defined by Merriam-Webster, inclusion is "the act of including; the state of being included."
Thus, workplace inclusion is a term that refers to a workplace where people with varying characteristics are included in the company culture.
An inclusive workplace welcomes and supports employees who vary in characteristics such as age, gender, ethnicity, language, physical ability, culture, religion, education, sexual orientation, etc.
Diversity vs. inclusion: What is the difference?
The terms "diversity" and "inclusion" are often lumped together and assumed to mean the same thing.
Though these terms are related and usually used in the same context, it is important to understand the difference between them.
Simply put, diversity is about differences. Inclusion is about embracing those differences.
Diversity is often used in the context of hiring diverse employees. But what do you do once you get people who are different into your company?
This is when inclusion comes in. Inclusion is the deliberate action aimed at creating a workplace culture where all differences are welcomed, accepted and appreciated.
In other words, it is not enough just to give diverse groups a seat at the table. You should also give them a voice and listen to them.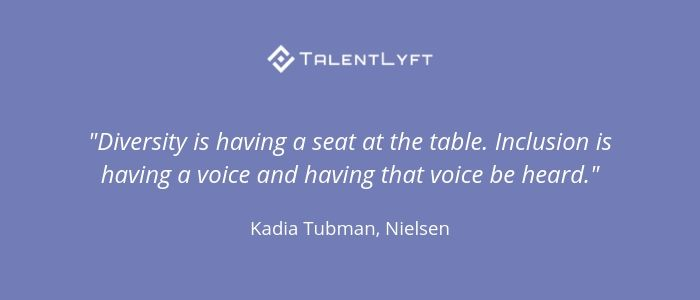 Workplace diversity and inclusion benefits
Workplace diversity is more than just the right thing to do in the moral, politically correct sense. Fostering a diverse and inclusive workplace has a direct and tangible effect on your company's bottom line.
Companies with a diverse workforce and inclusive workplace outperform its competitors and achieve greater profits!
Here are the top 10 benefits of workplace diversity and inclusion:
➡️ For detailed information on workplace diversity benefits, check out our article and INFOGRAPHIC: Top 10 benefits of workplace diversity!
Workplace diversity statistics
Here are some interesting, researched-based statistics that prove the benefits of cultivating diversity and inclusion in the workplace:
How to increase workplace diversity: Hire for diversity
If you want to improve diversity at your company, you should start by hiring more diverse candidates. How to do it?
Below are some great tips for attracting and hiring more diverse candidates.
How to find diverse candidates?
Here are some great, actionable strategies for attracting diverse candidates:
Diversity sourcing
Add terms like "employee resource group" and "ERG" to your Boolean search strings, along with phrases related to different types of diversity-focused networks (such as "black," "Latino," "disabilities," "women in IT," or "LGBTQ").

University/graduate school diversity associations
Get in touch with diversity associations at universities and ask them to recommend great young talent. You can also promote your job ads through their newsletters or sponsor one of their events. This is a great way to recruit diverse students and recent graduates.

Diversity-focused job fairs
Diversity focused job fairs are becoming more and more popular. Do the research and find a few in your local area. Attend these fair and present your company's dedication to diversity.

Diversity job boards
Job boards dedicated focused on minorities and diversity are also becoming more common these days. Did you know that you can find a diversity jobs section on Indeed? Make sure you also post your job on Diversity Working, the largest online diversity job board.

Employee referrals
Encourage your employees to recommend diverse candidates by offering additional bonuses and prizes. For example, Intel awards double referral bonuses for diverse hires.

A diversity-focused career site
Highlight your company's dedication to diversity and inclusion. Check out Schneider Electric's career page focused on promoting their company's inclusion and diversity initiatives: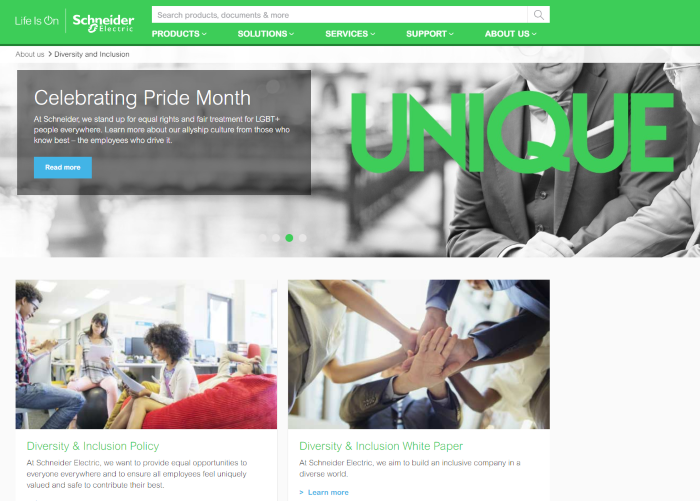 How to hire diverse candidates?
Here are some great, actionable tips for hiring diverse candidates:
Diverse interview panel
Don't leave interviewing to a single person. Instead, include other people from your company, especially your diverse employees. Listening to different perspectives from different people will improve the fairness and quality of your hiring process.

Diversity training for recruiters
Help your recruiters and HR managers learn more about their unconscious biases we all have. Luckily, with a little bit of education and training, everyone can learn how to avoid bias in recruitment.

Blind hiring practice
Blind hiring is the practice of obscuring job candidates' personal information such as a photo, age, gender and name. That way, recruiters and hiring managers make their decision solely based on qualifications, experience, education, references and the quality of the person's resume.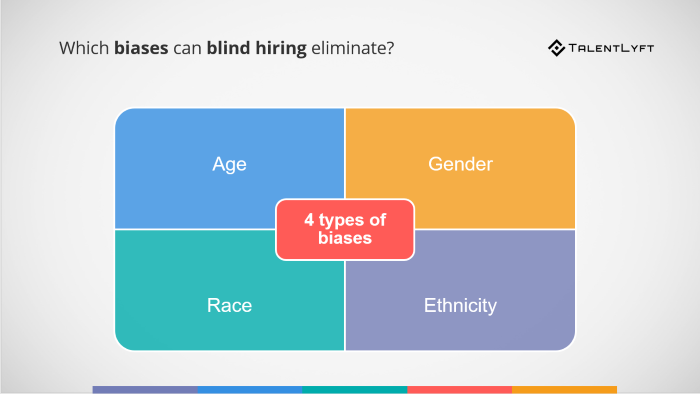 How to cultivate an inclusive workplace: Manage for inclusion
Inclusion doesn't happen simply because you've hired diverse candidates. Creating an inclusive workplace takes some effort.
This is why having an aligned diversity and inclusion strategy with clearly defined goals is of critical importance.
Here are the 4 key points every successful inclusion strategy should incorporate:


Leadership involvement
Here are a few good practices for ensuring a C-level involvement and support for implementing diversity and inclusion initiatives:
Ensure diversity at all levels of management

Assign a top executive to lead or sponsor your diversity program

Appoint a Chief Diversity / Equality Officer

Create a diversity council or committee.
Policies and procedures
Incorporate diversity and inclusion principles in all your policies and procedures:
Add diversity and inclusion among your company's values

Add diversity and inclusion in your company's mission and vision

Create and implement anti-discrimination policies

Issue a diversity and inclusion statement.
Education and training
Provide training and education for all your employees to help them understand the meaning, importance and value of diversity and inclusion:
Offer unconscious bias or sensitivity training

Organize diversity and inclusion workshops

Organize training on teamwork and collaboration

Offer conflict resolution education.
Retention and development of diverse talent
Here are a few good practices for ensuring that diverse employees stay at your company and develop their full potential:
Implement professional development programs

Offer diversity-focused mentoring programs

Create employee resource/networking groups

Track promotion rates of diverse groups.
Diversity and inclusion best practices
A survey of more than 300 HR executives, conducted by Cornell University, found that there are several commonalities among successful diversity and inclusion initiatives.
Here is a short list of best practices aimed at improving diversity and inclusion in the workplace:
Fair treatment

Equal access to opportunity

Teamwork and collaboration

A focus on innovation and creativity

Organizational flexibility, responsiveness, and agility

Conflict resolution processes that are collaborative

Evidence of leadership's commitment to diversity

Representation of diversity at all levels of the organization

Representation of diversity among internal and external stakeholders

Diversity education and training.
Top 3 barriers to implementing diversity and inclusion initiatives
What are the most common barriers to implementing diversity and inclusion initiatives at the workplace?
Forbes's research has found that most companies face these 3 barriers for developing and implementing a strategy for workplace diversity and inclusion:
Middle management fails to execute diversity programs adequately

Budgetary issues prevent the greater implementation

Too focused on survival in the current economy.
But don't let this discourage you! Armed with information and research-based statistics from this blog post, you can prepare for facing these barriers.
Good preparation will ensure that you tackle all of these challenges and implement your company's workplace diversity and inclusion initiatives successfully. Good luck! 🙂