Workplace safety - an important issue for employer
Every workplace is potentially hazardous, with some being more hazardous than others. If you are an employer, you should never take safety in the workplace for granted.
According to the International Labour Organization, worldwide, there are around 340 million occupational accidents and 160 million victims of work-related illnesses annually worldwide. In other words, every 7 seconds, a worker is injured on the job.
Often, employees are preoccupied with work matters that they forget the importance of safety safety. This is why every manager's essential task is to remind employees that work disasters can strike anytime without warning.
➡️ Join our 7 days email course Short Leaderships Tips for Managers and learn tricks to become a better leader for your team.
This article presents the safety tips that each of your employees must know.
Most common workplace injuries
Most common workplace injuries are:
1.Slips, trips and falls
2.Muscle strains
3.Being hit by falling objects
4.Repetitive strain injury
5. Crashes and collisions
6. Cuts and lacerations.
Workplace safety starts with employers
It has to be said, according to David Rowland, Head of Marketing at Effective Software, that the responsibility for health and safety starts with the directors of a business.
However, if they get this right, and instigate a cultural shift in their company, the benefits can include greater brand loyalty and a higher bottom line.
4 key workplace safety tips
Here are the 4 key workplace safety tips your employees should know: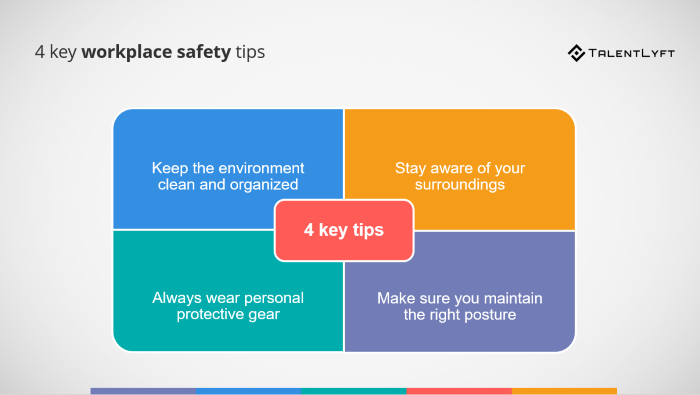 Tip #1: Keep the environment clean and organized
Ensure that the workplace is always clean. Remember that a disorganized workplace can be dangerous. Clean up any mess, even if you weren't involved in making them.
Clean spills on the floor to avoid you or any other person from tripping or slipping. Also, you can pick up any sharp objects, such as nails, that might be accidentally placed in the workplace.
Tip #2: Stay aware of your surroundings
Be awake and alert about the conditions and hazards that surround your workplace. This is critical particularly if you are working in a big organization or a place involving lots of machinery.
Once you've mastered the surrounding of your workplace, you'll be able to avoid potentially hazardous situations or areas. If you identify suspicious/unsafe conditions, report them immediately to your supervisor to prevent avoidable accidents from occurring.
Tip #3: Always wear personal protective gear
If you don't wear the protective gear, then you might be at risk of getting injuries in the workplace. And it's not just any protective gear, make sure you wear the right protective gear - you cannot wear earmuffs because you want to collect a sharp object on the surface.
Depending on your task in the organization, you can wear protective items like hard huts, ear plugs, gloves, ear muffs, overall, or a full-face mask. Choosing the right wear for your job demands will lower your chances of getting accidents.
Tip #4: Maintain the right posture
Whether you work in an office or the outside, make sure that you always maintain the correct position. Being in the proper posture means being able to do things easily while avoiding twisting or stopping. If working at a desk, maintain an upright posture to prevent back problems. For this case, ergonomic designed furniture/equipment could be of great help. If lifting things, keep your back straight. You can use mechanical lifting aids or request for help from a partner if necessary.
Staying sober will help you maintain the right posture. You'll be able to exercise judgment and coordinate movements only if you are sober.
Don't sit or stand, or even bend throughout the day. Take short breaks to stretch, stand, sit, and walk around for some fresh air. Taking regular breaks will reduce your chances of getting muscle strains or injuries due to repetitive motion. The secret of staying alert and doing a good job is ensuring you maintain concentration in the task, and you'll only concentrate better if you take breaks. Long hours of continuously doing the same work can cause stress, and so taking breaks is a stress-relieving event.
How to make workplace safety a prerogative for your company
Safety is a prerogative of all employees. If each employee understands and adheres to the safety tips, accidents would be lessened in the workplace.
Strict checks on whether the safety guidelines are being followed should be a priority.
About the author
Holly is part of the content team at Effective Software. Holly has worked in the health and safety industry since graduating from university.
When not writing about health and safety practices, Holly can be found researching new travel locations.