What are GitHub and Stack Overflow?
If you're looking to hire developers then Github and StackOverflow are your go-to places. These two websites are your best bet for finding and hiring top tech professionals.
➡️ Download our free eBook: Definite Guide for Recruiting & Hiring Developers!
Let's start by introducing GitHub and StackOverflow and explaining the difference between them.
GitHub
GitHub is the world's largest software development platform. It is a place where developers can host and review their code, manage projects, and build software alongside 31 million developers.
Basically, it is a site where developers store their code and share it with others for collaboration, further development or simply usage.
Here is what it looks like: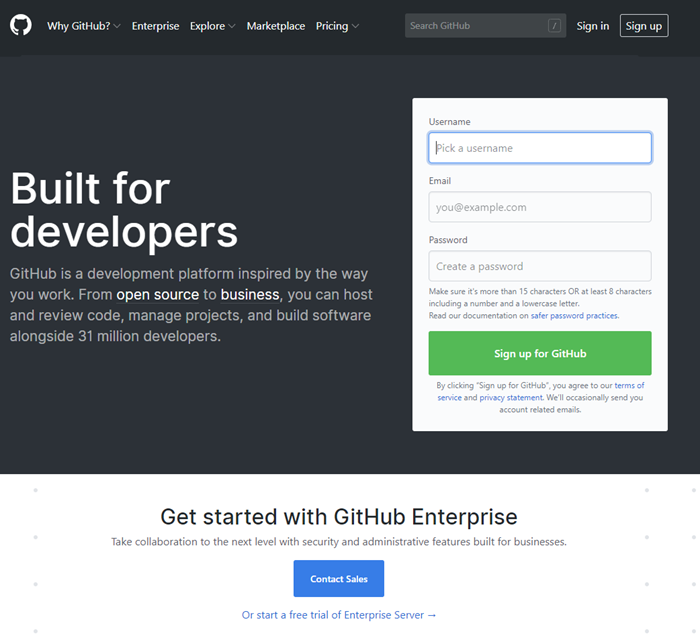 Here are some numbers which demonstrate the importance of GitHub in the tech community:
Founded in 2008

More than 31 million registered users across the globe

Over 100 million repositories on the platform

More than 2.1 million businesses and organizations use GitHub

54% of the Fortune 50 use GitHub Enterprise.
Here is the short video introduction to GitHub:
Stack Overflow
Stack Overflow is the largest, most trusted online community for developers to learn and share their knowledge.
Basically, Stack Overflow is a Q&A site. It is a place where developers post their programming-related questions and coding problems hoping that other developers will be able to help them.
Here is how it looks like: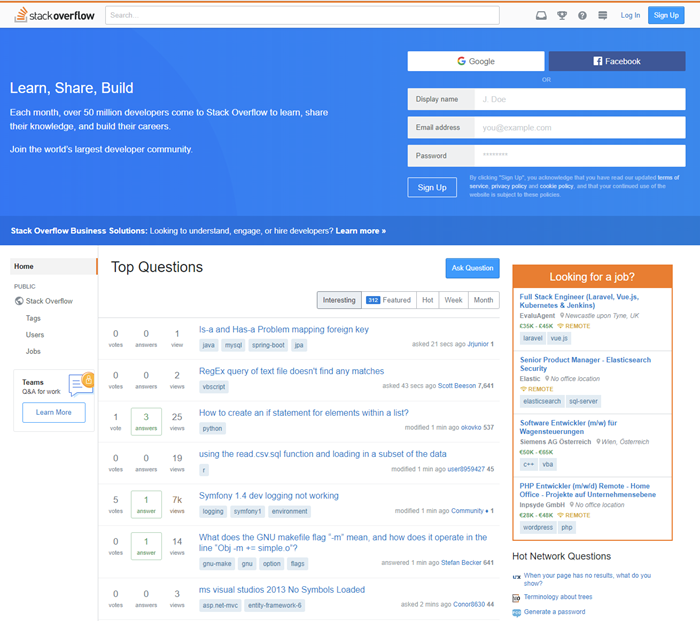 Here are some numbers which demonstrate the importance of Stack Overflow in tech community:
Founded in 2008

More than 50 million unique visitors come to Stack Overflow every month

A new question is posted to Stack Overflow every 12 seconds

Over 10 million questions have been asked by developers

Over 17 million answers have been provided.
Here is the short video introduction to Stack OverFlow:
Why are GitHub and StackOverflow the best places to recruit tech candidates?
The latest Stack Overflow' survey The Global Developer Hiring Landscape 2018 has found that:
Only 16% of developers are actively looking for a job

...but an overwhelming 75% of developers are interested in hearing about new job opportunities.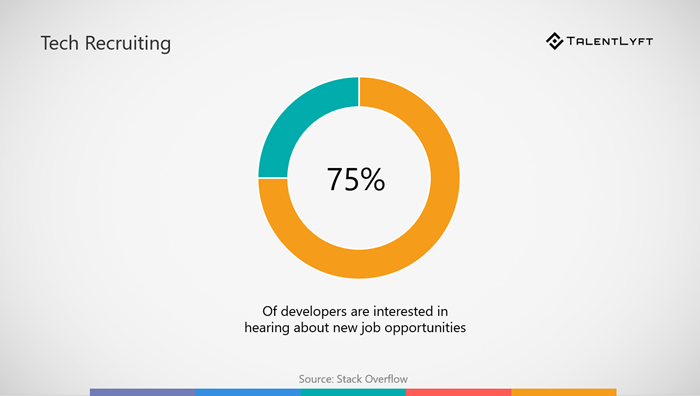 In other words, developers are generally passive candidates. They aren't actively looking for a job, which is why you won't find them checking job boards, LinkedIn and your career site. In order to reach them, you need to go where they are - on GitHub and Stack Overflow.
Stack Overflow and GitHub have another unique advantage as a source of potential tech candidates. They are an amazing source of information about candidates which can help you evaluate their competency and skills.
By using GitHub and Stack Overflow, you'll be able to get insights into technologies they work with and projects they work(ed) on. You can even see their actual code! Gathering all this information and insights will make it easier for you to differentiate good programmers from great ones.
How to find top candidates on GitHub and Stack Overflow?
Here is a detailed guide on finding candidates on GitHub and Stack Overflow:
GitHub
Here is how you can find great developers on GitHub in 3 simple steps:
Step 1: Create a free account
First, create a free personal account on GitHub by signing up. It's quick and easy!
Important: Don't skip this step, otherwise you won't be able to see your potential candidates' email addresses!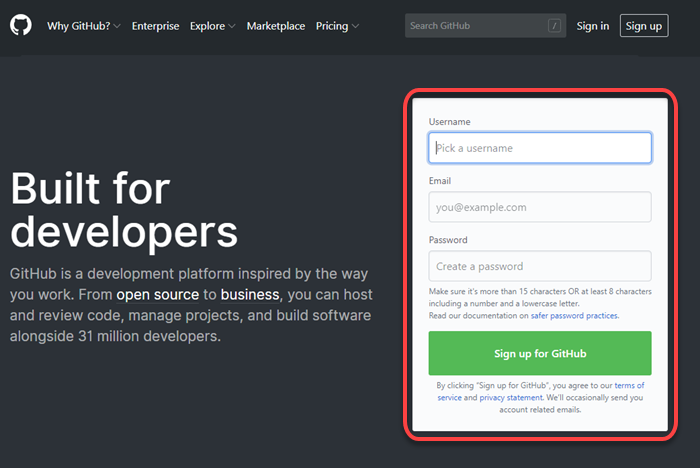 Step 2: Use the top search bar
GitHub has a powerful built-in search engine. There's a common search bar at the top of the site: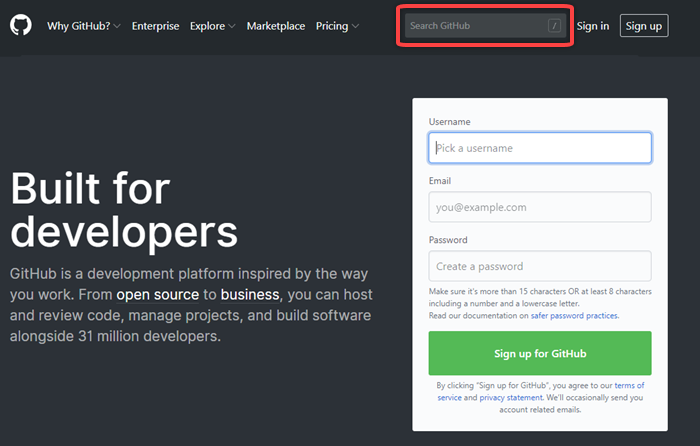 However, I highly recommend using an advanced search option, which offers a wide range of filters. For example, you can filter developers based on location, programming language, number of followers, etc.
Step 3: Find email addresses
Once you find suitable candidates, you'll want to get their emails addresses in order to contact them. If the candidate has listed their email address, you'll be able to see it in two places:
1. In the search results
Let's say we searched for Python developers located in London. Here are the results:

2. On their profile bio
If the candidate has not listed an email address, use email finders to discover it.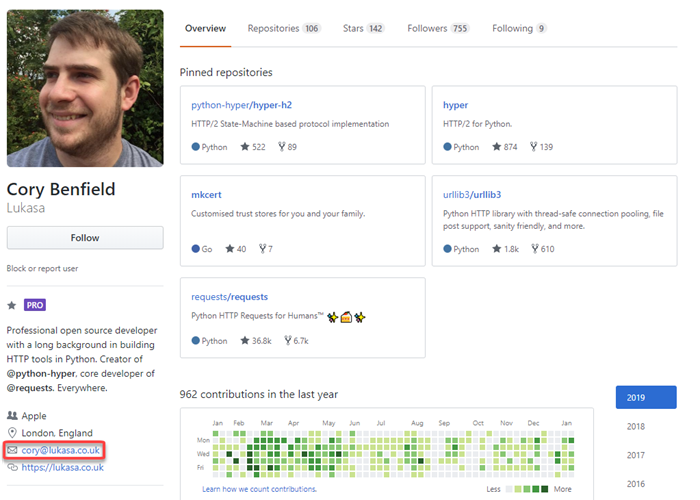 Stack Overflow
There are 3 great ways to find your potential candidates on Stack Overflow:
1. Use their job board
Stack Overflow has a job board where you can post your job ad.
An additional benefit is that Stack Overflow will put your job ad directly in front of the relevant audience.
For example, if you're looking for Java developers, your job ad will show up on Stack Overflow pages that talk about Java-related coding issues.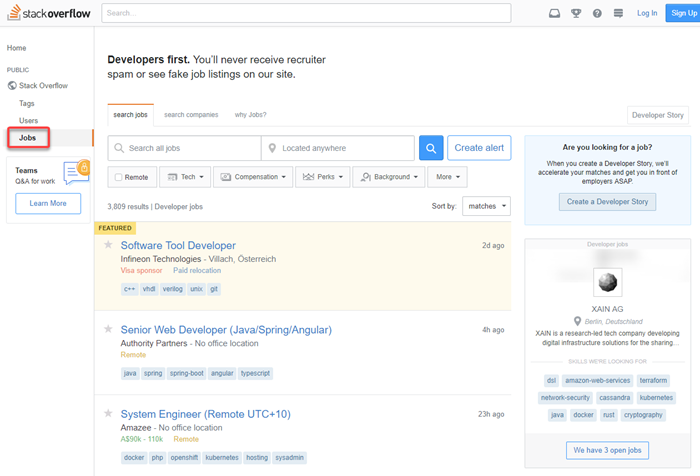 2. Use their advanced candidate search
Stack Overflow offers their paying customers access to their users' profiles.
This option allows employers to find, message and recruit from Stack Overflow's pool of interested developer candidates - all of whom have opted in to be contacted by employers.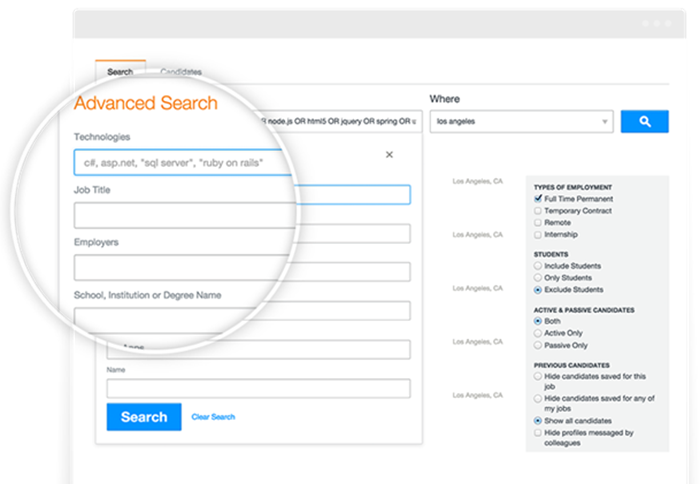 3. Tag search
You can also use Stack Overflow's tag search option to find relevant potential candidates.
First, click on tag button on the homepage.
The tag is actually a skill. For example, click on the "javascript" tag to find Javascript developers.

The result will look like this:


Now click on the "top users" to get a list of developers: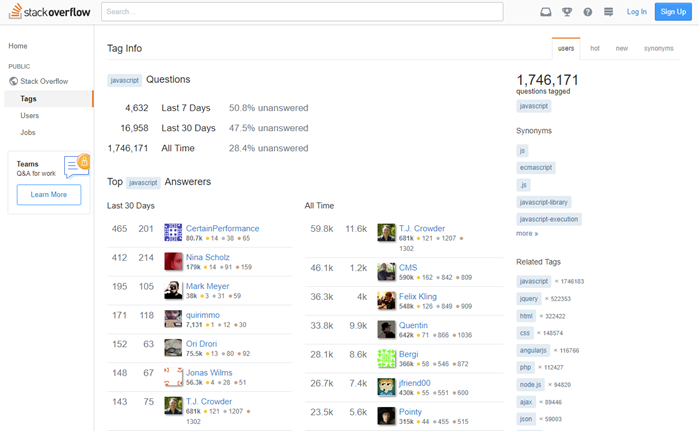 And...voila! It's as simple as that. 🙂
How to successfully approach tech talent on GitHub and Stack Overflow?
Remember, developers are high in demand. They are bombarded with recruitment messages every day.
If you want to stand out from many other recruiters, you'll need to differentiate your approach.
Here is the magic 3 step formula for approaching developers on GitHub and Stack Overflow:
Step #1: Showcase your existing employees
Encourage your hiring managers and developers to be active on GitHub and Stack Overflow. Ask them to build up their profiles and share the projects they work on. It is also important that they share their knowledge and expertise by answering to questions posted by other developers.
Having your existing employees visible and contributing to the tech community is the best way to get your company in front of your potential candidates. Developers who work with the same technology and on similar projects will quickly notice your star employees.
Using your existing employees as your brand ambassadors is a great way to attract the attention of your highly relevant potential candidates. It is also a great way for your developers to build their own personal professional brand: a win-win situation!
Step #2: Become a part of a community
Stack Overflow and GitHub are communities. Unfortunately, most communities aren't very welcoming to strangers. Especially if they come with unwanted job offers. Luckily, there is a solution - become an insider!
Get involved! Build relationships and become a part of the community. And don't worry - you can do it even if you're not a techie! Spend time on Stack Overflow and GitHub. Explore them and learn how they work.
Also, make sure to follow discussions on the technologies you're interested in. Learn more about those technologies. Our Technology Glossary for Human Resource (HR) Professionals will help you get started.
Step 3: Personalize your approach
Use the personalized approach to grab the attention of your potential candidates. If you followed two previous steps, you'll already have all the information you need to define a highly relevant, customized recruiting message.
Show your understanding and appreciation for your potential candidates' work. Make sure to focus on their needs and interests. Make it clear how working at your company can help them achieve their goals (and dreams!).
Candidates will want to hear how you might be able to help their career progression, boost their income or improve their reputation.
Looking for more great tips on recruiting developers?