List of the best job boards
Advertising your open job positions on the right job boards and job posting sites is the first step in finding qualified candidates.
➡️ Download our free eBook: The Ultimate Guide for Finding Qualified Candidates in 2019!
This may be especially hard if you need to fill many different positions in multiple locations around the world.
To help you save time, we created a comprehensive list of the most relevant global (international) job boards and job aggregators.
We also listed top job posting sites in USA, UK, Australia, Canada and Europe.
We divided this comprehensive job board list into 6 sections:
Top 10 global (international) job boards

Top 5 job boards in USA

Top 5 job boards in UK

Top 5 job boards in Canada

Top 5 job boards in Australia

Top 25 job boards in Europe (by country)
We also included a short description of each job board. In it, you'll find the key information about every job board we listed.
That way, you can quickly decide if a certain job board is a good place for you to advertise your open job positions.
10 global job boards
Global job boards are used for international hiring. Global job boards are the job boards and job posting sites that operate in many regions within countries around the world.
Global job boards are the perfect choice for employers who want to reach and attract candidates in many different countries around the world.
Check out the list of the 10 leading global job boards:
1. Indeed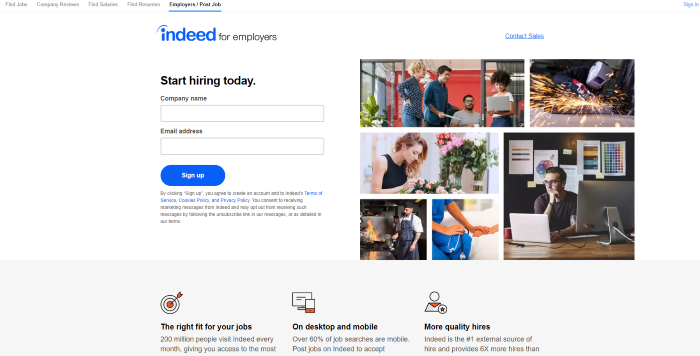 Indeed is the #1 external source of hire and provides 6 times more hires than any other job site.
200 million people from more than 60 countries visit Indeed every month, giving you access to the most talent in every field.
You can post your jobs for free on Indeed. You can also pay to promote your job postings and reach more qualified candidates faster.
2. Glassdoor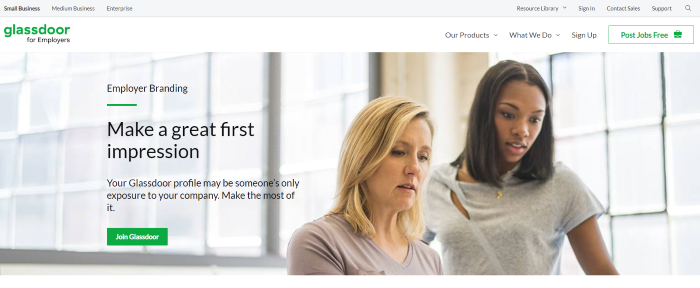 Glassdoor is the world's largest career community. 64 millions of job seekers from 190 countries visit Glassdoor monthly.
You can post your job openings on Glassdoor for free. You can also pay for job ads that use a matching algorithm, so the right people see your jobs.
You pay only when an ad delivers a candidate to your career center.
3. Monster
Monster is a global online employment solution used by job seekers and employers in more than 40 countries.
To advertise one open job position on Monster for a month, you'll have to pay $279. With Monster Premium Job Ads your job postings are automatically distributed to 500+ sites.
Monster can also help you target both active and passive candidates on Facebook, Instagram and Twitter.
4.Craigslist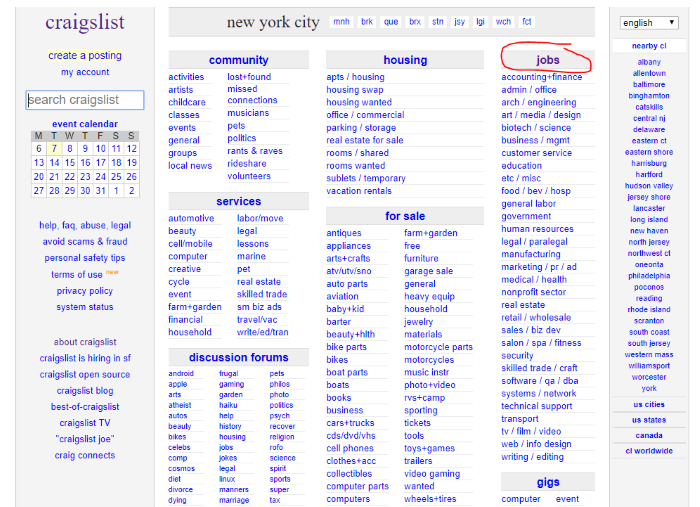 Craigslist is an old school style, classified ads website that operates in more than 70 countries.
It is also used as a very popular job posting site. Unfortunately, you can no longer post your job openings for free on Craigslist.
For job postings in selected areas you'll have to pay form $10 to $75 (fee varies by area).
5. CareerBuilder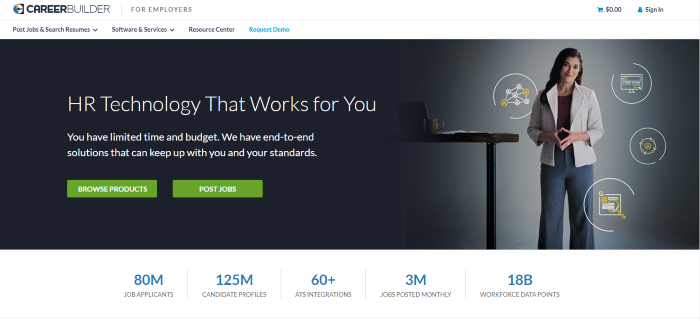 CareerBuilder is a global online employment website. You can find CareerBuilder and its subsidiaries in the U.S., Canada, Europe and Asia.
To advertise one job opening for one month on CareerBuilder, you'll have to pay $219.
You'll also get resume database access to search for relevant candidates
6. Dice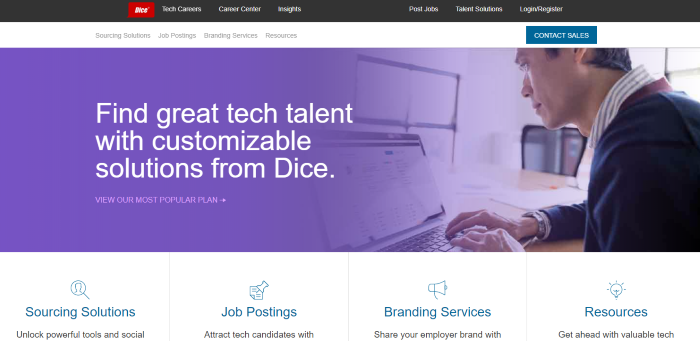 Dice is a leading job board for tech and engineering professionals in North America and Continental Europe. Dice has more than 2 millions of unique tech professionals visitors monthly.
Promoting your job post on Dice and within 3000 partner sites for 30 days will cost you $395.
You can also pay extra to reach up to 1,500 targeted professionals with a custom email promoting your open positions.
7.Upwork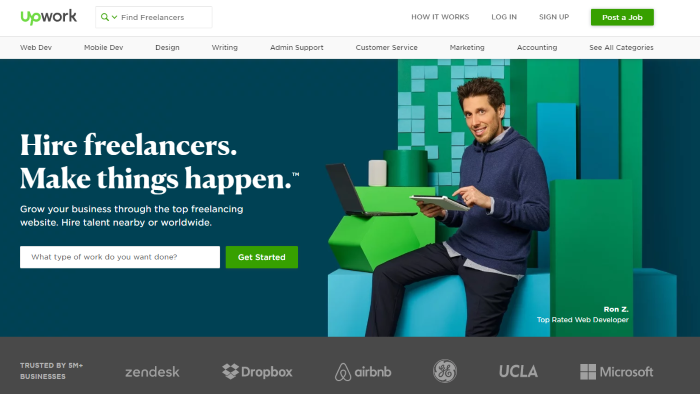 Upwork is a global freelancing platform where businesses and independent professionals connect and collaborate remotely.
Upwork operates in over 170 countries. Upwork makes it fast, simple, and cost-effective to find, hire, work with, and pay the best professionals anywhere, any time.
You can post your job openings for free on Upwork. You can also pay hourly or fixed-price and receive invoices through Upwork.
8. Gigajob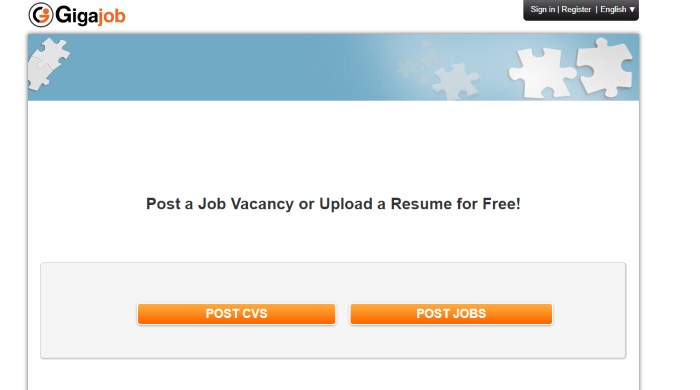 Gigajob is one of the leading online job portals with local sites in more than 100 countries and many different languages.
You can use Gigajob without having to pay anything at all. At Gigajob basic ads are always free of charge.
All Gigajob ads are active for 30 days. You can also search Gigajob's extensive online resume database.
9. CareerJet
Careerjet is a job search engine. Careerjet's job search engine network encompasses over 90 countries, featuring separate interfaces that are translated into 28 languages.
You can publish your job openings directly on Careerjet for a price of $100.
For that price, your job postings will be featured in the top search results and you can get quality applications directly to your inbox.
10. Dribbble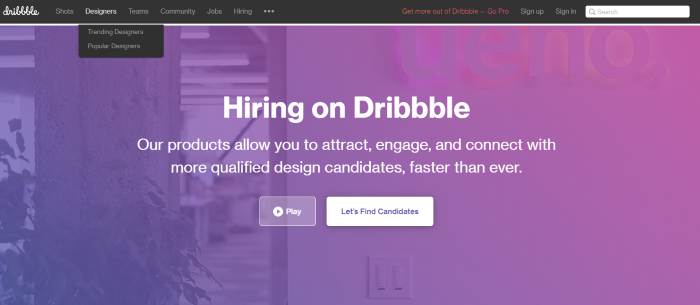 Dribbble is one of the largest global design and product communities and a destination for millions of designers and design enthusiasts every month.
It also has #1 job bboard in the world for hiring designers and creative professionals.
It will cost you $299 to advertise a single job opening on Dribbble for a month.
Top 5 job boards in USA
Hiring in the USA?
Here is a list of the top job boards you should consider if you're looking to hire great candidates in the USA: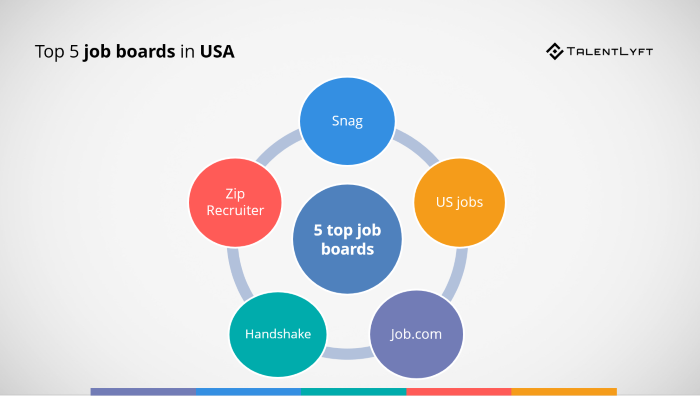 1. Snag
Snag is the nation's largest network of hourly job seekers. W
ith more than 80 million registered hourly workers and 300,000 employer locations, Snag is America's #1 hourly marketplace.
By posting your job on Snag's job board, you can reach 90 million job seekers.
2. US jobs
By posting your job openings on US.Jobs you can reach 25,000+ niche job boards instantly.
Individual sponsored job posting presented to targeted job seeker audiences.
This type of job ads will cost you $99 if you decide to use US jobs job board.
3. Job.com
Job.com is evolving the traditional recruitment model.
This job board uses blockchain technology, enhanced feedback and financial rewards.
You can post your jobs for free. There are no up-front costs - you only pay a 7% fee when you hire.
4. Handshake
Handshake is the official network to reach college talent across the USA.
The official partner of 700+ colleges and universities, Handshake is the leading early talent platform.
With just a few clicks, post your jobs across dozens of schools - for free.
5. ZipRecruiter
ZipRecruiter is more than a job board: it is a leading online employment marketplace.
When employers post a job to ZipRecruiter, it is posted to ZipRecruiter.com and sent to their network of 100+ job sites, instantly.
ZipRecruiter reaches 30M+ job seekers a month on a mix of channels.
Top 5 job boards in UK
Hiring in the UK?
Here is a list of the top job boards where you should post your job openings if you're looking to hire candidates in the UK: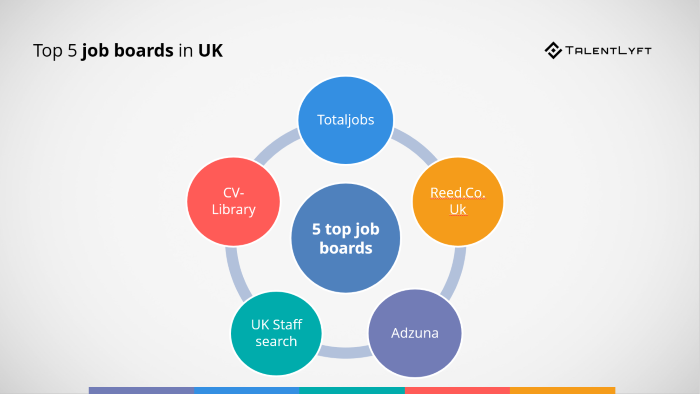 1. Totaljobs
Totaljobs is a UK's largest hiring platform. Totaljobs has over 280,000 live job adverts at any one time.
Totaljobs has recently partnered with Jobsite, so now you can advertise a job for longer with a six-week posting on both totaljobs and Jobsite
2. Reed.Co.Uk
Reed.Co.Uk is the UK's busiest job site. Every day, reed.co.uk attracts thousands of jobseekers from across the UK.
Reed.Co.Uk currently has an audience of over 16.9 million active candidates. You can post your first job advert on this job board for £89.
You can also search their database of 10.8 million high quality candidate CVs.
3. Adzuna
Adzuna is a job site based in leafy South-West London in the UK.
You can start off by posting a small number of jobs for free on this UK site.
If you decide to go for sponsored job adverts, you can get your job openings seen by candidates across Adzuna's partner network of 100+ UK job sites.
4. UKStaffsearch.com
UKStaffsearch.com is the UK's first effective free job posting and CV search job search website that operates on a pay per download system.
Launched in March 2008 UKStaffsearch.com has developed into the UK's leading job site visited by more than 1 million jobseekers every month.
5. CV-Library
CV-Library is a UK job board that was launched in October 2000 as one of the country's first employment websites. Today, it hosts the UK's largest CV database of over 13 million CVs.
If you post your jobs in this job board, you'll get access to 13.8 million candidates. If you pay an additional fee, you can also browse this UK's favourite CV database.
Top 5 job boards in Canada
Hiring in Canada?
Here is a list of the top job boards where you should post your job openings if you're looking for Canadian candidates:
1. Workopolis
Workopolis is Canada's leading career site and job board. Workopolis was founded in 1999 and provides job services to Canadians in both French and English.
You can create a free job posting on Workpolis in less than five minutes. After you post your job, you have the option to sponsor it.
Sponsored Jobs receive premium visibility at the front of search results.
2. Canadajobs.com
Canadajobs.com is one of Canada's leading online career sites with a very popular national job board.
This job board is focused exclusively on the Canadian job market. Thousands of visitors head to Canadajobs.com each day to find job opportunities.
You can post your job openings on Canadajobs.com's job board for free
3. Jobillico
Jobillico is based in Quebec and used by 2.4 million job seekers.
Jobillico has an interesting approach to job searching: they instantaneously suggest job postings and companies to their candidate members who are the perfect match.
In other words, Jobillico displays the best jobs that fit candidate's profile.
4. CIPS
CIPS (Canadian Information Processing Society) is the professional association for Information Technology (IT) practitioners in Canada.
It also has a job board that is very popular among IT professionals in Canada.
CIPS Job Board offers sharing IT Jobs with Canada's premiere IT professionals on the CIPS website, newsletter, and on social media.
5. TalentEgg
TalentEgg is the award-winning job board and online career resource that connects employers with top student and recent graduate talent.
As the most popular online resource for students and grads, there's no better place to share your job opportunities to reach Canadian's top Gen Y and Z talent.
Top 5 job boards in Australia
Hiring in Australia?
Here is a list of the top job boards you should post your job openings if you're hiring in Australia: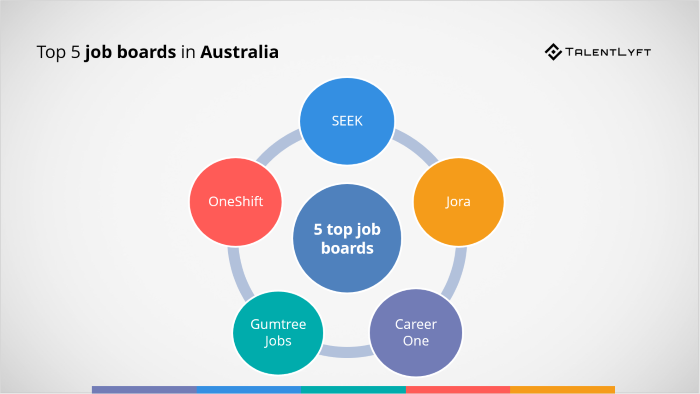 1. SEEK
SEEK is Australia's largest and most popular job board. 3 out of 4 people looking for jobs in Australia use SEEK.
SEEK is Australia's most visited employer site - it receives over 375 million visits every month.
You can also search over 8 million candidates profiles.
2. Jora
Jora is one of the largest Australian free job posting sites.
Jora allows employers to publish individual job advertisements directly to our website - completely for free!
The job advertisements that you post will stay live for a maximum of 28 days.
3. CareerOne
CareerOne is another popular job board in Australia. A 30-day job listing on CareerOne will cost you $170.
Their job ad packages include a listing on CareerOne.com.au and their partner sites, as well as enhancements that can boost job visibility and response rate.
4. Gumtree Jobs
Gumtree is an Australian marketplace, connecting more than 6 million Australians each month to buy, sell and find almost anything, including jobs.
Gumtree Jobs provides employers with a simple, affordable and effective solution for placing jobs on Australia's local marketplace.
5. OneShift
OneShift is an online job network which matches employees with employers.
This job board is specialized in one-off shifts and casual work.
You can post your job for on One Shift for $70 and you'll also get an instant list of 50 matched candidates.
Top 25 job boards in Europe (by country)
Hiring in Europe?
Let's examine the leading job posting sites in Europe.
Information presented here is based on the Global Talent Acquisition Monitor, a European recruitment study conducted among nearly 60,000 respondents from the European workforce in June/July 2018.
Here are the leading job boards listed per country:
Free job posting sites
If you're looking for global or a niche job boards where you can post your job openings completely for free, check out our list of the Best Free Job Posting Sites!
Post jobs for free on multiple job boards
With TalentLyft, posting jobs on best job boards is fast and easy.
You can post jobs for free on multiple job boards with just one click!
➡️ Try it out and see for yourself.
Think beyond job boards: Recruit proactively!
Tired of waiting for candidates to apply?
Want to move beyond the good old "post and pray" method?
Download our free eBook and learn how to transform your hiring process from reactive to proactive!