Why do you need to accelerate your hiring in 2019?
Recruiting can be one of the most difficult processes a business has to go through. Finding and hiring ideal job candidates is vital to the longevity of a business as you need to keep a dedicated and capable team of staff to perform necessary duties.
Furthermore, if you have staff unexpectedly leave or fall long-term sick, you must have strong recruitment strategies to attract the best talent in order to replace that short fall in employees and output.
Check out The Ultimate Guide for Finding Qualified Candidates in 2019!
How can you accelerate your hiring in 2019?
Some businesses recruit in-house and have their own HR departments advertise for jobs; other businesses may use recruitment agencies to find suitable candidates on their behalf.
Whichever method you use as a business, you must have effective recruitment techniques to bring in the right type of staff. Additionally, you must implement the latest recruiting trends and have firm recruitment ideas so that the whole process is streamlined, cost-effective and cause as little hassle as possible.
Recruiting hacks you should implement in 2019
To help you recruit the right people for your company, we have provided 9 recruiting hacks to accelerate your hiring in 2019: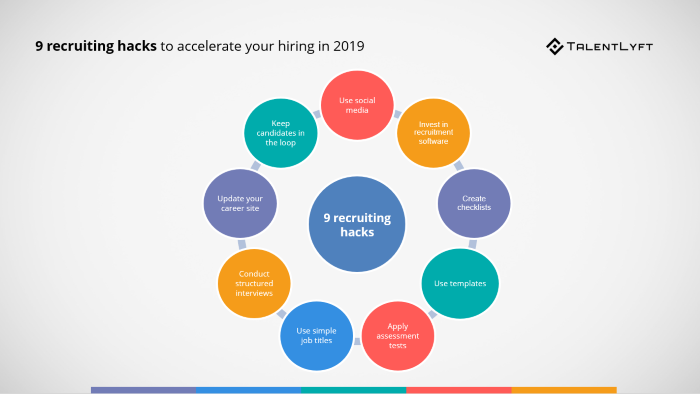 Recruiting hack #1: Use social media as an outlet to recruit candidates
In today's digital world, we have to make use of social media recruiting. Simply using traditional recruitment processes such as job portals and newspapers may not be enough. Promote new roles via social media platforms such as Facebook, Twitter and LinkedIn - you can then appeal to a much larger audience. Make sure that your social media job adverts are professional and contain as much information as possible about the role - also give them a call to action so that those interested can get in touch.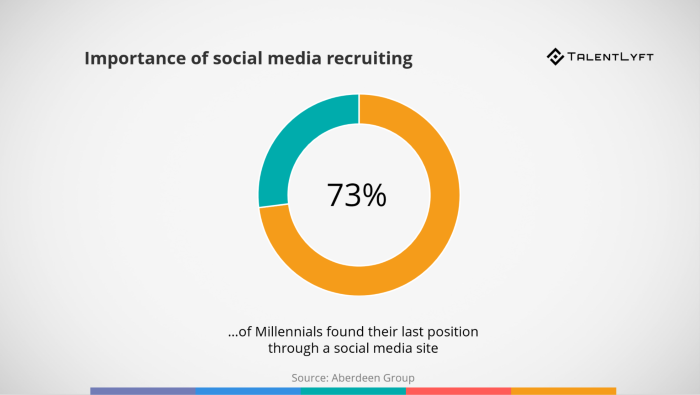 Recruiting hack #2: Invest in automated recruitment software
Automated recruitment software is certainly the way forward. Both businesses and recruitment agencies can benefit hugely from using this type of software. Recruitment software have many benefits: they can help automate much of the recruitment process and boost your efficiency and productivity indefinitely. Furthermore, this type of software can automate process such as sending emails and sending responses to candidates. You will be amazed at what you can achieve using these automated recruitment tools.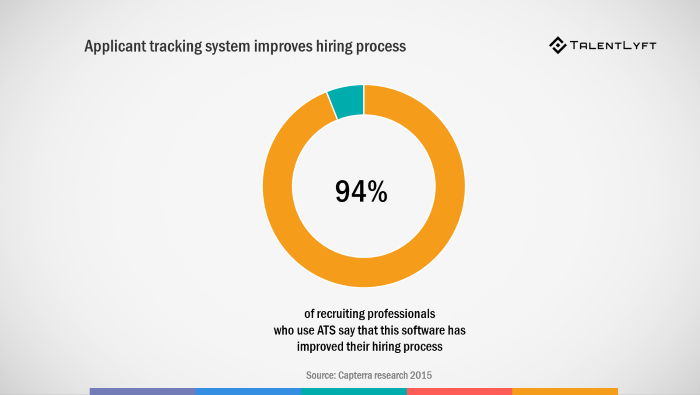 Recruiting hack #3: Create checklists for standard procedures
Much of the recruitment process involves standardized and repetitive procedures that you have to complete each time you hire a new candidate - create an advert, create a short list of candidates, choose candidates for interviews, complete interviews etc. etc - you get the idea. One simple hack that can save any confusion is to create checklists for the recruitment process as well as onboarding checklist. If you sit down and consider each stage involved in recruiting a new candidate, you can then create a checklist that correlates with this. Each time you must recruit a new employee, you can go through this checklist to ensure no step has been overlooked.
Recruiting hack #4: Use templates to hasten the recruitment process
Templates make digital work that much easier. Writing out a new recruitment advertisement every time you have to hire a new employee can be time consuming. By using standard HR templates for certain processes, you can improve your efficiency and speed time on other process as a result. For example you can use job description templates, interview invitations, rejection letters etc - create a template and then simply change small details to add personalization for each candidate.
Recruiting hack #5: Consider including tests as part of the application process
Tests are a fantastic way to quickly eliminate unsuitable candidates. Furthermore, tests can be a great way to gather useful data, and also to analyze certain aspects of a person's ability and personality. You could include simple English and math tests, or tests that are specific to your organization and industry. There are even some free online tests that you could use if you don't have time to formulate questions yourself.
Recruiting hack #6: Choose job titles that are common and simple
A job title is often overlooked part of job advertisement but it can make a huge difference in recruiting. When choosing a job title, think from the candidates perspective - what job phrase would they commonly search for? What would most people recognize this job to be called? Don't use complex and confusing names as it may damage your search ranking when candidates are looking for jobs. Use simple titles such as Sales Manager, Office Administrator and Buyer for example.
Recruiting hack #7: Create a structure for your interviews
Businesses often make the mistake of simply heading into an interview blind. Remember that interviews can be just as difficult for the person interviewing as for the candidate. To standardize your interviews and make them useful to your business, consider using a structured or semi-structured job interview. The structure doesn't have to be hugely detailed, but it should at least contain a basic outline of what you will discuss and what interview questions you may ask.
Recruiting hack #8: Keep your career site up-to-date
This is a crime that most businesses will be guilty of - you know the typical "recruitment opportunities" or "careers" page that you see on a website? And you know how that page is usually outdated or simply states "No current jobs"? Don't be that business - create a perfect career site! Ensure that you regularly update your recruitment page and make it detailed so that potential candidates can actually benefit from it's existence.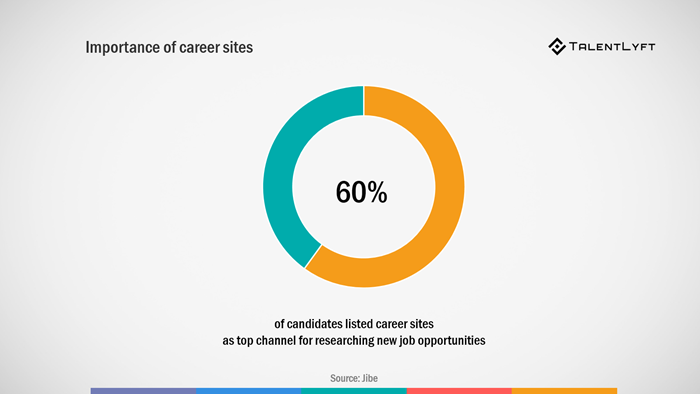 Recruiting hack #9: Communicate with candidates regularly
There is nothing worse than applying for a job and hearing nothing back, or only receiving minimal contact from the business. To make your candidates comfortable and to show that you value their time you should communicate regularly with them. Create specific communications at certain steps - an email to state you have received their application, and email to state their application was successful etc - keep them in the loop to avoid bad candidate experience.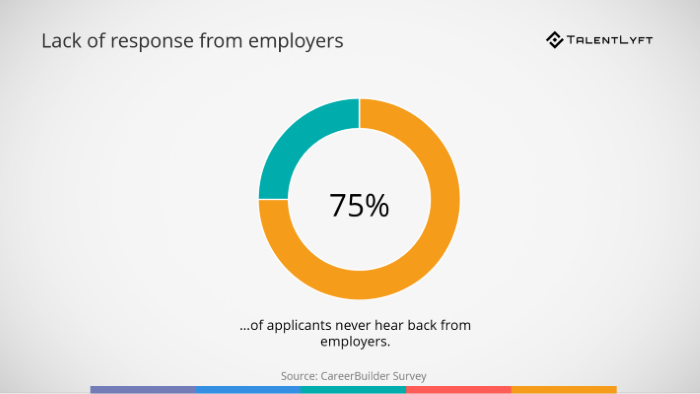 Are you ready to accelerate your hiring in 2019?
By using these 9 recruitment hacks, you should be able to improve your hiring process with little to no effort at all. Furthermore, you should be able to stay ahead of the competition, and attract a higher degree of candidates to your business - this will in turn help improve your internal processes and efficiency - everyone's a winner!
Why not use some of these recruitment tools and put in place these recruitment strategies today and improve your hiring process?
About the author
Emily Watts is a business and management guru and specializes in all aspects of HR and recruitment. Moreover, Emily also contributes to CustomWriting.com and shares her knowledge and writing skills with others around the world.