Launching a startup?
The thought of starting a business is incredibly daunting. You're put up against massive conglomerates and corporations that dominate every industry. There's no guarantee you'll find a sufficiently innovative niche to compete in your market either. Yet despite the odds, a small percentage of startups manage to pull through and eventually grow into notable name brands like Facebook or Pandora.
The importance of attracting talent to your startup
Perhaps unsurprisingly, an ill-suited team is the third most commonly cited reason that startups fail. For the newly forming company that has yet to find its footing and structure, its few team members make up the entire company. There are no mammoth corporate layers or hundreds of other employees to hide mistakes behind.
If your startup consists of just you and you're looking to take the exhilarating step toward growth, your future largely depends on your first employee. This decision may make or break your already fragile company and can be as critical as choosing a life partner - your wallet depends on it.
How to attract top talent to your startup?
Let's take a look at how to attract talent to your startup to start forming the dream team.
More than just free beer: What makes your startup different?
According to LinkedIn's research, company culture is among the top reasons for changing jobs. 25% of candidates said that better company culture is among their top reasons for changing jobs.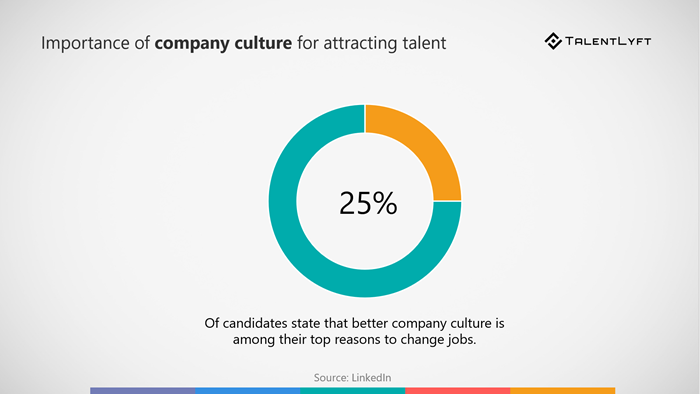 Startup culture is a defining aspect of this century's economy and is shaping the way companies think of their employees. As the flexible work hours, cloud computing, and take-home company laptops take the office by storm, we are seeing a myriad of traditional startup work trends spread across organizations, both big and small.
Any modern organization is sure to flaunt its newly installed volleyball court, bottomless coffees, or free yoga workshops in job postings. No longer does a millennial-driven work culture belong solely to the startup. Everyone's on board and ready to compete for the top talent by peacocking their trendy perks.
So, what is it that differentiates your startup from the millions of other small businesses out there?
We can assume that individuals actively seek out opportunities at startups, because they already have certain expectations they hope to have fulfilled. If you're a startup-sized gig just putting out a job posting, there's no need to toot your horn about how small and hip you are. You may offer remote work days, but so does every other startup on the block.
If you don't already have elements that make your startup unique, find something that sets you apart. Market your business as an irreplaceable opportunity that offers a partnership, not just a one-sided relationship.
On the other hand, you may have the challenge of convincing desirable talent to leave their lofty corporate jobs and take the plunge into the risky startup world. He or she may have exactly the profile your company needs, so you'll have to convince them on what more a startup can provide them. Is that more creative freedom? Expanded responsibilities? Less management? You can offer negotiation on role responsibilities and even have the position to grow with the candidate's own expectations.
Chances are a startup needs the talent more than the talent needs the startup. Woo them!
Be deliberate about where you advertise the job
Where do you look to attract talent to your startup? There may be strength in numbers, but opening the floodgates to any and all candidates isn't time effective if you don't have a dedicated HR department already. Unless you want to spend hours a day sifting through hundreds of resumes, be deliberate about where you advertise your position opening.
Strategize a hiring plan so that half the selection process is already done by the time you receive a resume in your inbox. Ditch the massive job seeker portals and instead search for more focused communities, such as the talent pool on social media. Spreading your announcement intentionally to target groups gives you the upper hand and brings you closer to finding a candidate that matches your needs.
However, once you've found your groove in the hiring game, the real work begins.
Employing the top talent can be a double-edged sword for your startup!
A Gallup study found that high performing yet unengaged employees were equally likely to leave a company as their unengaged low performing coworkers. Top talent can accelerate your company's growth and make invaluable contributions, but if the initial excitement wears off, engagement wanes and your company is in danger of losing a star player.
The self-motivated, high octane employees necessary to get startups off the ground are also going to be the ones to actively seek out further developmental opportunities. Startups can offer an untapped source of opportunity to learn, but if a position's responsibilities become too limited or the company stops growing, those opportunities die off. How can your company offer continuous learning and keep employees engaged in their work?
We've all felt empowered by a sense of ownership over work. Trusting team members to take responsibility over their own work not only encourages engagement, it creates a self-sustained process in which they feel truly connected to what they're doing.
How to retain talent in your startup?
It goes without saying that high turnover rates will stifle growth and may even leave your startup in a worse position than where it started. You can attract top young talent to your startup, but it's all for nothing without retention. A new employee will ride out the initial wave of startup excitement after a while, then have a clearer idea of whether they can see themselves there long-term.
A retention plan should start as early as the hiring process. Being transparent in job postings and interviews about the candidates' responsibilities and the company's position will help avoid frustrations down the road on both sides. You can't promise professional growth and a variety of responsibilities if realistically that won't happen for months down the road. The chosen candidate might just be stuck tackling growing pains and operational tasks rather than taking on the responsibilities and creativity that motivated them to join the company in the first place.
Salary is also a vital sign of company health that signals to candidates whether they'll have a sustainable future at your startup. Someone may initially join for the experience, but move on once they've hit a learning limit and need to pay the bills.
Conclusion: Choose your crew for uncharted territory
Going all in on a startup is definitely not the easy route, but promises endless opportunity. Your founding team will play a decisive role in shaping where your company goes, how it develops, and what values it adopts. Be strategic about your hiring, and you may be one of the fortunate startups to recruit the right people for your company, take a flight and make it big.
About the author
Brett Farmiloe is the CEO of digital marketing company Markitors and advisor to career resource, Organizational Leadership Degrees. He is also a backyard chicken farmer who frequently contributes content to Forbes and Huffington Post.