People analytics: A must-have in the new era of HR
We are now entering a new era of HR. In the old fashioned, traditional business model, HR had a supportive role focused solely on managing employees. However, times have changed, and HR is now expected to play a crucial role in achieving business outcomes.
This is where people analytics come into play. Applying analytics in HR can offer so much more than just reporting on HR metrics.
➡️ Download the Checklist of Most Important Hiring Metrics & Tips for Improvement!
People analytics is a core business initiative that can help your company achieve its business results.
A Global Human Capital Trends study by Bersin by Deloitte has found that:
71% of companies see people analytics as a high priority in their organizations.
Another study conducted by Bersin by Deloitte found that:
69% of organizations have a people analytics team and are actively building an integrated store of people-related data.
If your HR team isn't data-driven and well versed in people analytics, you're missing an opportunity to help your company gain a competitive advantage in the market. But don't worry - in this guide, you will find everything you need to know about people analytics.
A definition: What is people (HR) analytics?
Although people analytics has been a hot topic in the industry for quite some time now, there is still a lot of confusion around this term. In the last few years, the term people analytics has become a buzzword with a vague meaning.
Let's start by providing a clear definition of people analytics:
People analytics (also known as "HR analytics", "human capital analytics", "workforce analytics" or "talent analytics") is the process of collecting and analyzing data in order to assess and improve HR practices.
Simply put, people analytics is the data-driven approach to human resources. People analytics allows companies to make better business decisions based on data and metrics.
By collecting and analyzing people data, HR teams are able to gain insights which help the company to understand and address specific business problems.
How can your company benefit from people (HR) analytics?
The majority of HR departments focus on reporting employee data. They use people analytics to report on topics such as diversity, gender pay equity, turnover, etc. But people analytics is so much more than reporting on HR metrics and benchmarking!
People analytics enables HR professionals to:
Make a business case for HR initiatives
With people analytics, HR professionals can make a data-backed business case for HR initiative they wish to implement in their company.
Prove the effectiveness of HR interventions
People analytics enables HR professionals to test and prove the effectiveness of HR policies and different interventions.

Make better decisions based on data
Instead of relying on their gut feeling, HR professionals who use people analytics can make better, data-driven decisions.

Move from an operational to a strategic partner
Armed with data, HR professionals can help leaders make better decisions and become their strategic partner.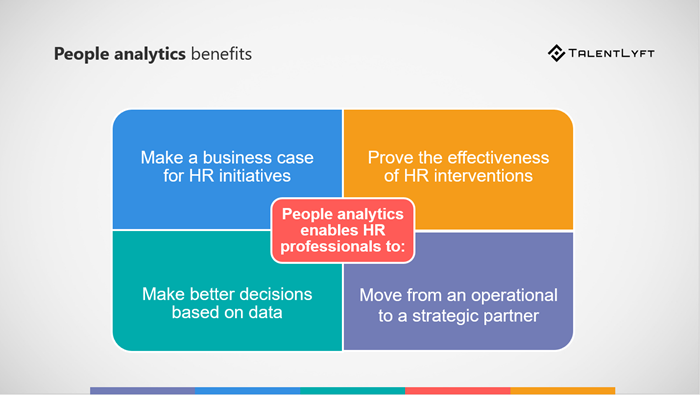 People analytics is being applied to a wide range of business issues. For example, people analytics is used to understand trends that might threaten or create risk for their company, as well as to better understand opportunities for business improvement.
Basically, the key function of people analytics is effective problem-solving. When used effectively, people analytics can have a major impact on the business bottom-line.
Types of people analytics
People analytics is an overarching term encompassing a wide variety of different types and applications. That being said, there are four key types of people analytics:
Descriptive analytics
Descriptive people analytics provides an answer to the following question:
"What has happened?"
This type of people analytics is defined by using data to understand and reflect on what has already happened in the past.

Strategic analytics
Strategic people analytics provides an answer to the following question:
"Why did this happen?"
This type of data analytics is defined by developing causal models and searching for the reasons behind a certain occurrence.

Predictive analytics
Predictive people analytics provides an answer to the following question:
"What could happen?"
This type of data analytics is defined by using statistical models and forecasts techniques that can predict the future based on the past.
Prescriptive analytics
Prescriptive people analytics provides an answer to the following question:
"What should we do?"
This type of data analytics is defined by using simulation algorithms to analyze a number of different possible solutions in order to choose the one most likely to provide the desired outcome.
Implementing people analytics
How to get started with people analytics?
Here are the 4 key steps you need to take in order to ensure a successful implementation of people analytics in your company:
Step 1: Ensure a C-level buy-in
In order to successfully implement people analytics at your company, you should first ensure buy-in from your company's leaders. How to convince C-level executives of the relevance of people analytics?
Show them the numbers! Apply people analytics to the challenge they struggle with. Present the gathered insights to prove people analytics worth to executive leadership.
Step #2: Gather a team
Most HR professionals don't know how to read and analyze data so make sure that you provide them with the necessary education and training.
Once the members of your HR team are well versed in people analytics, it's time for you to assemble a dedicated people analytics team. People analytics is a multidisciplinary field so you should include people from various other departments as well.

Step #3: Find the right tools
Your HRIS probably has some basic embedded analytics, but in order to get the most out of people analytics, we recommend utilizing a specialized people analytics software. There are many different types of people analytics tools on the market.
Using specialized people analytics tools will help you gather, analyze and use data to your company's benefit. You'll also be able to automate and customize your data reporting.
Step #4: Learn about the legal constraints
Get informed about the legal and ethical constraints related to data collection. Make sure that you uphold all security, privacy, and confidentiality standards.
Be open and transparent about the data you collect and that you respect your employees' privacy. When it comes to people analytics, keep in mind the popular saying "Just because something can be measured doesn't mean it should be!".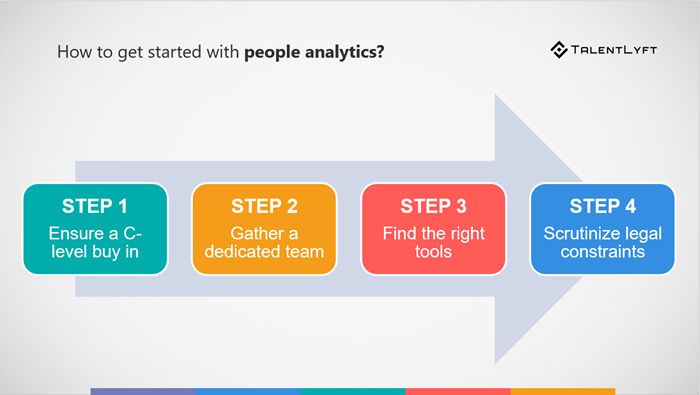 Example of people analytics in action
If you're interested in real-life examples of using people analytics, I suggest you check out Laszlo Bock's book 'Work Rules'.
Laszlo Bock was the senior VP of People Operations at Google. In his book, Bock explains the impact of applying people analytics in Google. I strongly recommend reading it!
➡️ Check out the rest of the Best HR Books You Should Add to Your List Right Now!
The future of HR analytics
The future of people analytics sure looks bright. Thanks to the proliferation of technology and many different office tools, companies have more people-related data than ever before. Consequently, trends in people analytics are still emerging and evolving and will continue to do so in the future as well. To learn more about the current state of people analytics, check out his useful infographic.
Smart companies will surely continue to utilize this vast amounts of detailed data about their people to gain a competitive advantage in the market. Companies that act on the gathered data and analytics to solve critical business issues will surely be able to out-hire, out-manage and out-perform their competitors. Will you be among them?