How to build a business case for recruitment software?
So you've found your perfect recruitment software.
(➡️ If you haven't, check out our free guide: 2019 Guide for Buying a Recruiting Tool)
You know it will help you revamp your recruiting process. It will be a total game changer!
By using this software, you'll be able to attract and hire better talent faster. It will make your life easier and benefit your whole company!
The question now is, how do you get the executive level as excited as you about buying a new recruitment software?
Convincing the management to make a decision about a recruitment software investment can be a challenging task.
If you're struggling to get your company's C-level to invest in a recruitment software, this guide is for you.
This guide will help you build a strong business case for buying a recruitment tool.
Follow our step-by-step guide and learn how to provide relevant data and context that will make your executives pay attention!
Guide: How to get executive buy-in for recruitment software?
You understand all the benefits of having a recruitment software.
But how to present a clear and convincing case for a recruitment solution to your company's executives?
Here is the 6 step framework that will help you get the executive buy-in for the recruitment tool you need: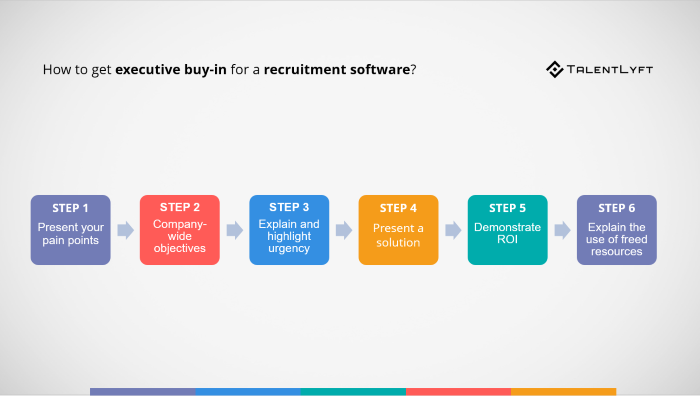 Step #1: Present your pain points
First of all, you need to clearly define the problems you are facing.
Why do you need a new recruitment solution? What are your biggest recruiting pain points?
Here are the 4 key challenges reported by most of HR professionals:
Insufficient number of high-quality applicants

Time-consuming, manual and ineffective hiring process

Inability to track and measure recruitment metrics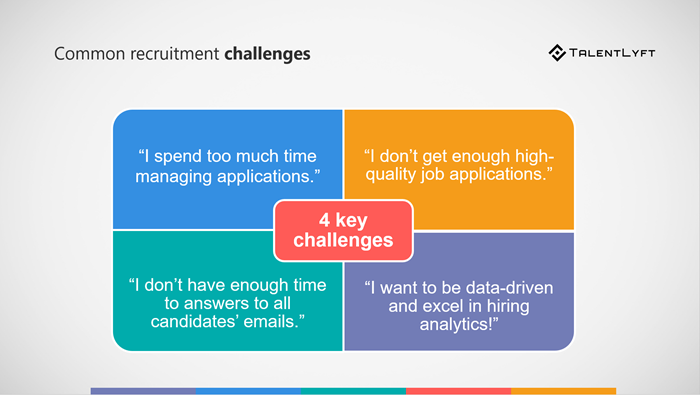 Make your own list and name your own top 3 recruiting challenges. Got them? Great!
Now turn them into goals. Make sure that your goals are measurable, specific and time bound!
Here is an example:
Pain point: "I don't get enough high-quality job applicants."
Goal: Increase the quality and number of new hires for X% in the following 6 months.
Step #2: Link to company-wide objectives
Once you have defined your specific recruitment goals, it's time to think wider. You need to
to think in terms of high-level business problems and frame your recruitment challenges in that context.
You need to tailor your pitch to your audience. In this case, your audience are executives.
Managing directors and executive boards are concerned with a broader view. What they care most about is your company's strategic goals.
Thus, you need to link your recruitment goals to your company's overall goals and bottom line.
Buying a new recruitment software might seem like a trivia - until you explain how it supports your company's strategic goals.
How will reaching HR's targets impact the company's bottom line?
And how will that enable your company to develop a competitive edge?
Let's look at an example:
Let's say your company's strategic goal is to achieve a higher revenue and profit in the next quarter.
In order to do that, your executives decided that your company needs to enter new markets or develop new products.
This will be impossible without hiring top talent and new exerts that will support and lead your company's growth!
See what we did there? 😉
Step #3: Explain the urgency
So far you presented your recruitment challenges, turned them into goals and linked to your company's business strategy.
Now it's time to explain the urgency and severity of the issues you presented.
You need to convince your executives that the issues you presented call for immediate attention and action.
How will these challenges escalate if you delay dealing with them?
What is the current impact of these pain points? And why is it critical to address them now rather than next year?
Let's get back to our example:
We said that your goal is to hire more experts that will help your company launch a new product or enter new markets.
Now you need to explain why it is important to buy a new recruitment tool right now.
You need it now to find and hire enough talented candidates that can lead your business's expansion in the next quarter!
Step #4: Present a solution and its benefits
Now that you explained why you need a new recruitment software, you need to present how it will help you achieve your company's goals.
How can a recruitment tool help achieve your company's strategic goals? How can it turn problems into opportunities?
First of all, focus on the financial issues. If your business case doesn't center around either saving money or making money, you won't get very far.
Again, think wider than just cutting down recruitment costs.
You need to highlight the benefits for your whole company and all stakeholders.
Back to our example!
By hiring talented experts, you will not only help your company achieve its next quarter goals (entering new markets, launching a new product, etc.).
Additonall, by buying a new recruitment solution, you will also enjoy the following long term benefits:
Increased efficiency

Time saving

Cost saving

Improved reporting

Higher quality of hire

Reduced IT department's involvement

Reduced marketing department's involvement.
Step #5: Demonstrate return on investment (ROI)
Just listing the benefits is not enough to make a strong business case for buying a recruitment software.
You need to use data and leverage research to demonstrate the ROI. In other words, show your executives the numbers!
Your C-level executives need to see strong, revenue-driven metrics and research to back up your request.
This is why it's essential that you show your decision to buy a new recruitment tool is based on data.
The most important metric you should use is the return on investment.
Compare the cost of the recruitment software to the value of the results it will be achieved with it.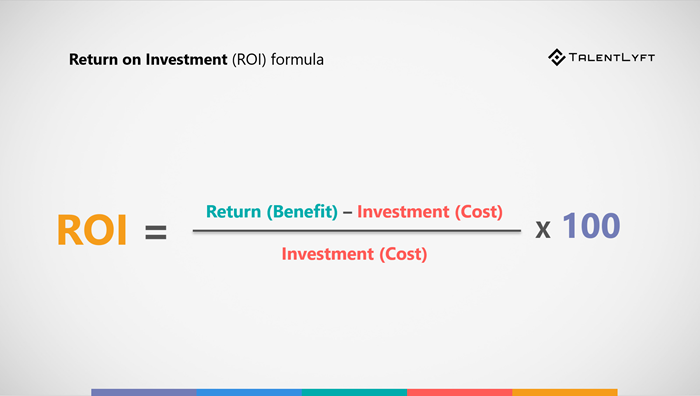 Start by calculating your current recruiting costs and showing how they will decrease with the use of new recruitment solution.
Convert your recruiting issues to dollars! Putting a dollar cost on any likely major failure will help you prove your point.
Another thing executives are focused on is competing with your company's competitors.
This is why you need to show that buying a new recruitment software will ensure that your company isn't left behind.
Did you know that:
Armed with this data, you can spell out the advantages to your executive decision-makers.
Step #6: Explain how you'll use freed resources
The final step in making a strong business case for buying a recruitment software is to explain how you will use freed resources.
Using a recruitment tool will help you save time and money.
That's great! But what will you do with all that extra time and money? What new challenges can you tackle?
Make sure you choose an issue related to your company's bottom line - you know the drill now. 😉
This is your opportunity to present a plan which will demonstrate to your executives the additional benefits your HR team can bring to your company.
Make sure to use it wisely!
Bonus tip: Keep your executives involved!
So you ensured your executives buy-in for recruitment software. Congratulations! 🎊
Now what? Except enjoying in your new recruitment solutionof course. 🙂
My final word of advice is that you keep you executives informed and involved.
Continuously update them about progress made on your quarterly goals and achieved milestones.
By demonstrating the value your new recruitment tool is bringing to the company, you'll be able to build trust with your executive level.
This will ease the way to any for any of your future proposals.