Video is the king in recruitment as well
It is estimated that by the year 2022, 82% of all online traffic will be made up of video.
The massive growth of online video will have a significant impact across many industries and the world of recruitment will be no exception to this.
As the web becomes increasingly video-dominated, more and more recruiters will need to use video in order to attract top talent.
Leading companies are already using videos in their recruitment endeavours - check out these great recruitment video examples!
Using video in recruitment has quickly become one of the most important recruitment marketing strategies.
➡️ Download free eBook: Most Productive Recruitment Marketing Strategies!
Why should you use recruitment videos?
There are many reasons to use a video in recruitment.
Here, I would like to highlight 3 top reasons why you should consider incorporating video in your recruitment strategy: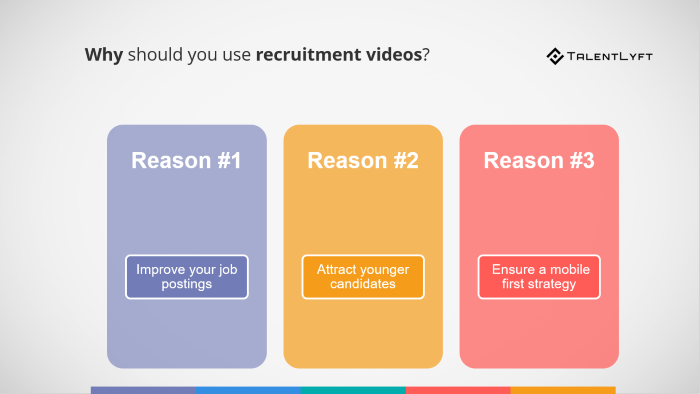 Reason #1: Improve your job postings
Job postings with video receive a 34% higher candidate application rate.
So why is this? Unlike traditional job adverts, video gives employers an opportunity to tell an engaging story that humanises their organisation and sells their work culture.
What's more, videos are more insightful than text as they offer candidates the chance to get an insider view of the company… something that even the very best job descriptions would not be able to achieve.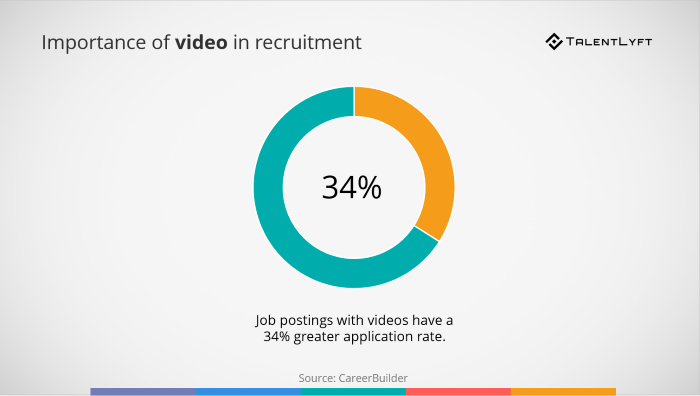 Reason #2: Attract younger candidates
Studies have also found that the use of video is a particularly effective tactic for attracting younger candidates.
When presented with an identical video and article, millennials are nearly four times more likely to watch a video than read an article.
This is important because by 2030, millennials will make up 75% of the global workforce.
Reason #3: Ensure a mobile first strategy
Incorporating video also helps to futureproof your recruiting strategy as it helps to ensure a "mobile first" first.
Being "mobile first" is critical when you consider the fact that 82% of candidates now search for jobs on their phones.
Video is the rising star of mobile content, and it is estimated that video alone will make up a whopping 87% of all mobile traffic by the year 2021.
Common forms of recruitment videos
If you are new to recruitment videos and would like to incorporate them into your hiring practices, there are a few different options you can choose from.
Some of the most common forms of recruitment videos include: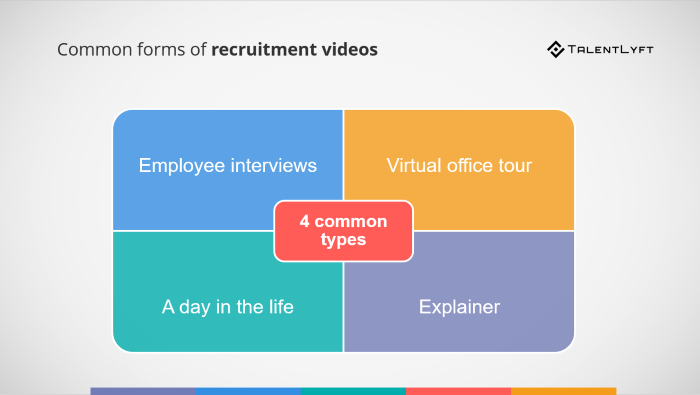 1. Employee interviews
Many organisations opt for employee interviews as they are a great way to provide a more personal way of highlighting the very best aspects of your company culture.
2. Virtual office tour
Another common option is a virtual office tour – this is particularly popular among companies who feel that their work environment is the biggest strenght of their employee value proposition (EVP).
3. A day in the life
An "A Day In The Life Style" video will give candidates a better idea of the daily roles and responsibilities if a specific position.
This is also a fantastic way to subtly show off your work culture and environment in an authentic, natural way.
4. Explainer
These videos take a more general approach, as such they are better suited for building your employer brand rather than for advertising a job.
These videos give a compelling run-down of the company and its core aims.
How to create an effective recruitment video?
As with any video marketing, the most important thing to consider when producing a recruitment video is strategy.
Before taking out the camera, identify your goals and audience, then consider your resources (time, equipment, abilities and budget) and go from there.
Creative storytelling is also key. You want to ensure that your audience is engaged enough to complete the video and feel compelled to submit an application.
Don't be afraid to try something different, just make sure that the final production stays true to your strategy and aligns with your brand.
If time and budget allow, you should also think about creating several versions of the video which are specifically tailored to different job specs.
A more tailored approach will help to increase engagement and boost the application rate.
How to maximise the value of your recruitment video?
Producing a recruitment video requires a lot of time and effort. There are a few things you should do in order to maximise your investment. Firstly, be sure to feature your branding clearly throughout the video.
Secondly, insert a call-to-action – i.e. a link to a webpage, form or email - so viewers can apply with the mere click of a button.
Finally, measure everything, (e.g. views, engagement, click-through-rate and drop-off) so you can judge the effectiveness of your video for yourself and make changes if necessary.
Rules for creating a great recruitment video
When it comes to recruitment videos, there are some basic ground rules you should always try to follow. Firstly – plan out every single detail and have a strategy in place for the video production, promotion and measurement.
In terms of content, make sure you communicate all the essential points but keep it short (under two minutes ideally) and easy to understand (so avoid using jargon).
Finally, respect the rights of your current employees when filming; don't force anyone to appear on the video who doesn't want to be.
Should you hire professionals?
If the budget allows, hire a team to ensure a high quality of video production and post-production. This is an ideal option for organisations that simply don't have the time, manpower, expertise or resources to create the video in-house.
Though this option may be a bit more expensive, these costs are offset by the benefits of having a team of experts who bring a diverse set of skills to the table to ensure that your recruitment video is the best it can be.
If you can't afford a professional help, don't worry - you can do it by yourself. DIY videos can have great effect as well. Before you get started, check out these 6 tips for creating a perfect recruitment video!
Recruitment video infographic
If you are interested in recruitment videos and would like to learn more about how to create one for your company, we recommend that you take a look at the below infographic from One Productions.
This helpful graphic lays out the many benefits of recruitment videos and also handily provides a range of practical pointers to ensure you get the most out of your recruitment video.
Take a look at the infographic below to learn more about how your company can attract top talent with recruitment videos.

About the author
Tom Hopkins is the Managing Director of One Productions – a video production company based in Dublin, Ireland. Tom is passionate about video marketing and strategy and enjoys creating helpful content on these topics.