Millennials: The most numerous working-age generation
Millennials are the generational cohort born between 1980 and 1999; thus, by now, most Millennials are aged 30-40 years old, being the most active and largely represented working-age population.
As baby Boomers and Gen Xers are gradually retiring and foregoing their job positions to Millennials, the latter are projected to constitute up to 75% of the global labor force.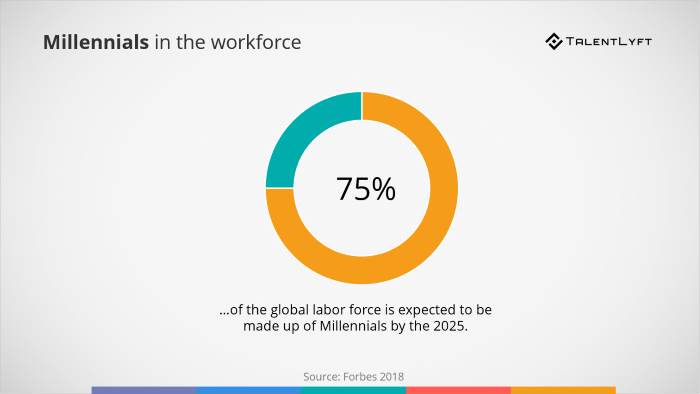 The challenge with recruiting and retaining Millennials
If you want to be successful at recruiting and retaining Millennials in your workplace, you need to change the way you recruit.
➡️ Download our free eBook: Transform Your Hiring Process from Reactive to Proactive!
The challenge that HR professionals face right now is Millennials' fundamentally different set of workplace values and objectives.
Compared to older generational cohorts valuing stability and high salaries, Millennials are not attracted to money in the first place and are more mobile in workplace choices.
Therefore, you as an employer should keep track of this trend and devise strategies for attracting, engaging and retaining more talented Millennials in your workplace for the sake of getting a competitive advantage.
How to attract and engage Millennials?
Here are the top 7 most effective strategies to attract and engage Millennial talent: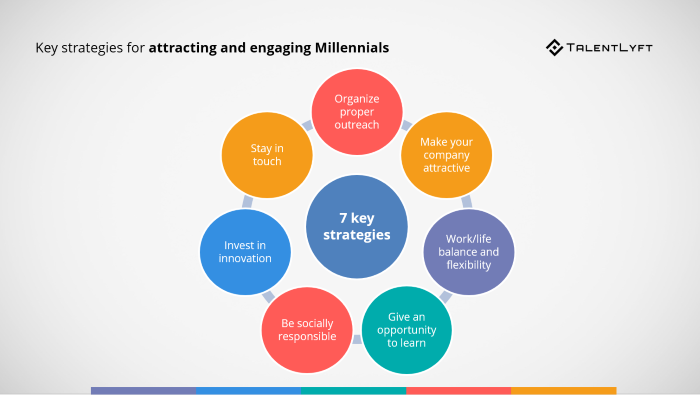 Strategy #1: Organize proper outreach
Millennials use the Internet differently, and reaching them out with your job ads may be best achieved if you actively engage mobile search opportunities and promote your employer brand on social media tools.
Representatives of this cohort spend most of their time online on their smartphones, so making the search for a vacancy mobile-friendly guarantees you more interest from their side. More than that, the power of outreach via social media has never been as powerful as it is now.
Don't underestimate the power of social networks in landing you the best candidates for the job openings. Promote your employer brand on social media and place vacancy announcements on your company's social media profiles. You will be surprised to see how well they work!
Strategy #2: Make your company attractive
Millennials love money (who doesn't!), but what they value even more is the meaningfulness of their job and the company culture.
Thus, they are much more attracted to workplaces where they are absolutely sure of the meaning and value of what they do.
The times of automated paperwork and bureaucratic jobs are long gone; this is what will never attract a Millennial to your office. Offer Millennials value, and they will multiply it with their dedicated, enthusiastic work.
Strategy #3: Work/life balance and flexibility
Millennials cherish freedom above everything else, so they are really in need of as much free time as possible. It seems that most Millennials look for jobs that will give them maximum flexibility for their personal lives; many of them even seek professional assignment help for the sake of securing more free time for personal matters during college life.
Thus, rigid working hours are not an attractive job offer for this generation – you need to pay attention to this when crafting the job announcement.
It's better to consider making a mix of full-time, part-time, and freelance staff; in such a way, you may attract much more talent to your workplace without limiting the employee selection by full-time work requirements.
Strategy #4: Give an opportunity to learn
Millennials seem to be the generation that is constantly moving and growing, so it's crucial to organize some training opportunities for Millennials to wish to join your company.
A chance for personal and professional growth is what most Millennials need to feel comfortable in the workplace and to stay at one job long enough.
Thus, it's better to invest in in-house digital training than in constant search for new employees because of high staff turnover.
Strategy #5: Be socially responsible
As we noted above, Millennials are not focused on money as their key priority in the workplace; so, in case you offer them more money, but your company's reputation is stained or ambiguous, they will surely select your competitor with a much cleaner profile.
The reason for this is that Millennials are much more concerned about working in competitive, sustainable, and responsible companies – the epoch of corporate greed has given its way to the era of sustainability, environmental awareness, and eco-friendliness.
Thus, Millennials are much easier to scare away from you in case they learn that you don't recycle, dump emissions into the local river or involve in doubtful commercial practices.
Strategy #6: Invest in innovation
Millennials are very tech-savvy, and technology is a synonym for their comfort.
Thus, it will surely be challenging to attract Millennials to your company if you use outdated technology, if you don't have social media (or keep them in a germinal stage of development), or do not have a great career site.
Innovative and technologically advanced workplaces are much more attractive to Millennials, as they simplify communication, data exchange, and ease the ways of doing things overall.
Strategy #7: Stay in touch
Finally, the tip for employers craving for employing more Millennials right now is to ensure the proper level of effective, two-way communication and collaboration.
An ideal workplace for Millennials is the one that works fluidly and interactively, so it is critical to provide them with an adequate amount of timely feedback if you wish to work with them long enough.
This relates not only to employee-employer collaboration, but also to peer-to-peer collaboration. Once you get enough Millennials to your workplace, be sure to provide them with innovative collaborative tools enhanced by technology to ensure their productive performance.
Millennials set their own rules of employment
As you might see from these 7 strategies, Millennials are a completely different generation requiring a distinct approach from employers.
Apart from the previous decades in which recruitment was in the hands of the employer, and best talent retention was mostly about the salary offered, today Millennials set their own rules of employment.
Offer Millennials what they value
Getting the right professionals into your team, getting the full team on track quickly, and not wasting time on recruitment campaigns may thus become easy if you embrace these distinctions and offer Millennials what they value in the workplace: value, meaning, reputation, on-site training, opportunities for growth and development, well-balanced work schedule and employee wellbeing.
Good luck in creating the Millennial team of your dream!
About the author
Kara Erhart is a professional team building coach, ethics teacher and content marketer with 5 years of experience.
She always provides experiments with her creativity approaches in work. Also, Kara works as a website analyst for assignment help firm. Follow her on Twitter.